Experienced email marketers know that it's not about sending plenty of nice emails to mark the job done. It's rather about bringing revenue by ensuring emails get delivered in the inbox and out of the spam folder.
To ensure their emails are received, marketers and sales teams use email verification software. The goal is to avoid email "bounces", essentially when an email address either doesn't exist or no longer exists. When this happens, the email bounces and email service providers use this as a signal to understand your email reputation.
If you get too many bounces, for email providers it could be a sign you're spamming by emailing contacts in bulk without a prior relationship or due diligence. When this happens, these may start flagging your emails as spam or flagging your emails as commercial messages in the promotional inbox.
Email validation can reduce the email bounce rate by 90% by checking if the email address you want to contact actually exists and works.
With the right email verifying tool, it is possible to significantly reduce your cold outreach and email newsletter bounce rates, protecting your email sender reputation and ensuring emails get received and read.
How to Choose the Right Email Verification Software
A good validation service should be able to detect invalid, undeliverable, and spam email addresses with the highest accuracy rate. SMTP authentication, domain authentication, catch-all servers, and correct syntax should all be checked.
You can also consider other features while choosing an email verification system.
✅ A good email verifying tool should allow bulk email checking and downloading of the results to your device as well as it should provide an option for uploading your mailing list.
✅ Fast performance. A good tool should provide the check results without delays and, the information provided should be real-time.
✅ Pricing of the tool should be affordable and fit your budget.
Best Email Verification Tools For 2023
Below, you will find a list of the best email verification tools you can use for your marketing campaigns and not only in 2023.
#1 Hexomatic

Hexomatic is the no-code data extraction and work automation platform for growth hackers. The platform offers 100+ automations to help users automate sales, marketing, or research tasks on autopilot.
Hexomatic has 2 email verification automations that ensure trustworthy results and deliver results in minutes:
Email Address Validation automation automatically checks whether an email address is valid and deliverable. You can use this tool for detecting any disposable emails as well. 

Email Verification (EasyDMARC) premium automation performs advanced multi-layer validation to detect invalid or disposable email addresses which could negatively impact your email deliverability. Features syntax, bounce, MTA, spam trap, disposable, catch-all, domain, and SMTP email checks. 
Pricing: Plans start from $20 per month. A forever-free plan is available with 75 automation credits per month.
#2 ZeroBounce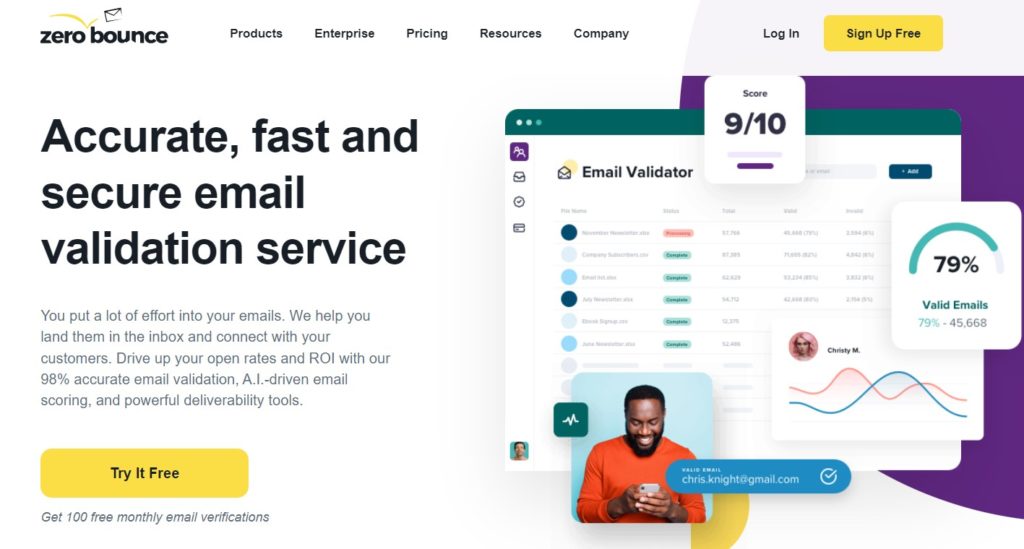 ZeroBounce is an AI-driven tool that ensures 98% accuracy in email validation.
It provides real-time alerts when your email addresses are found on blacklists, so you can minimize any risks and damages.
This tool is trusted by Hotjar, Samsung, and other well-known companies worldwide.
According to user reviews, the only drawback of the tool is not enough user-friendly interface.
Pricing: Plans start from $15 per month. A free trial option is available for less than 100 checks a month. Additionally, this platform allows you to test a single email without any subscription to decide whether you want to subscribe or not.
#2 Clearout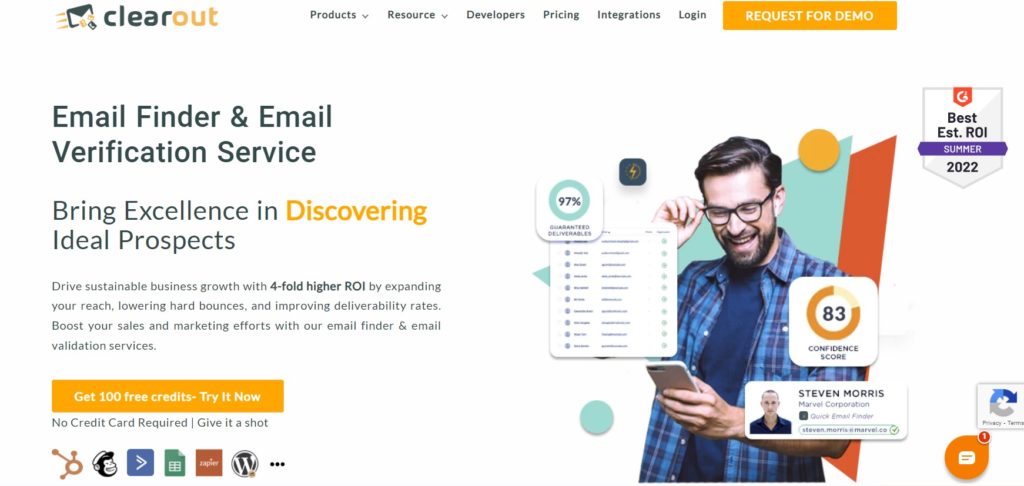 Clearout is an email finder and email validation tool that helps to boost sales and marketing efforts.
This tool is trusted by companies like Adobe, DataCaptive, and more.
Clearout works in the following ways:
Removes duplicate emails
Any dots from the emails
Sub-accounts and temporary emails
You can also use it to identify and remove spam traps, emails that may cause bouncing, and the ones from blacklisted domains.
Pricing: Plans start from $21 a month for 3000 checks. A free trial version is available for up to 100 checks.
#3 SEON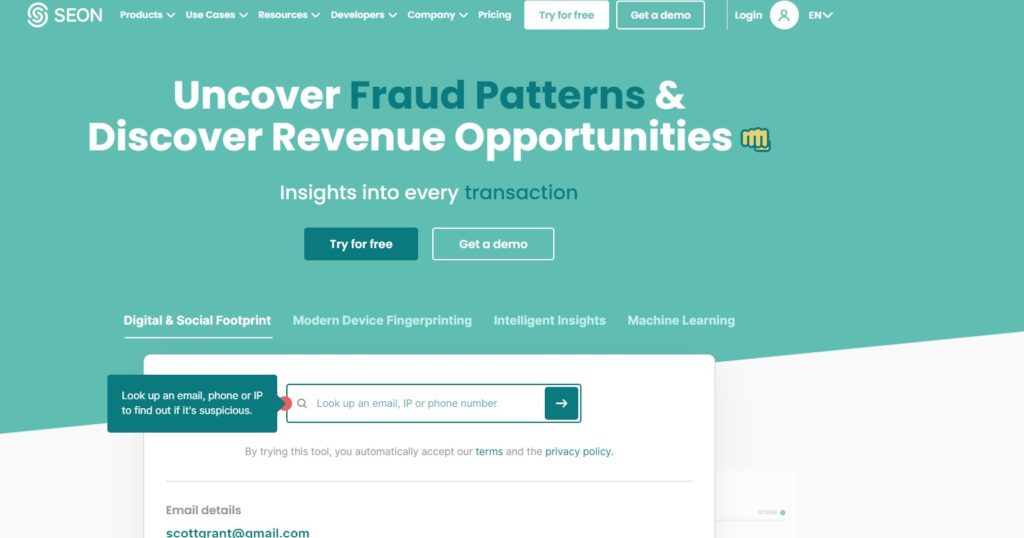 In addition to detecting fraud, SEON provides extensive information based solely on email addresses.
This tool is ideal for detecting fraud, verifying email authenticity, and performing customer segmentation.
Pricing: Plans start from $299 per month. The platform also provides a free version as well as a custom demo version.
#4  GetEmail.io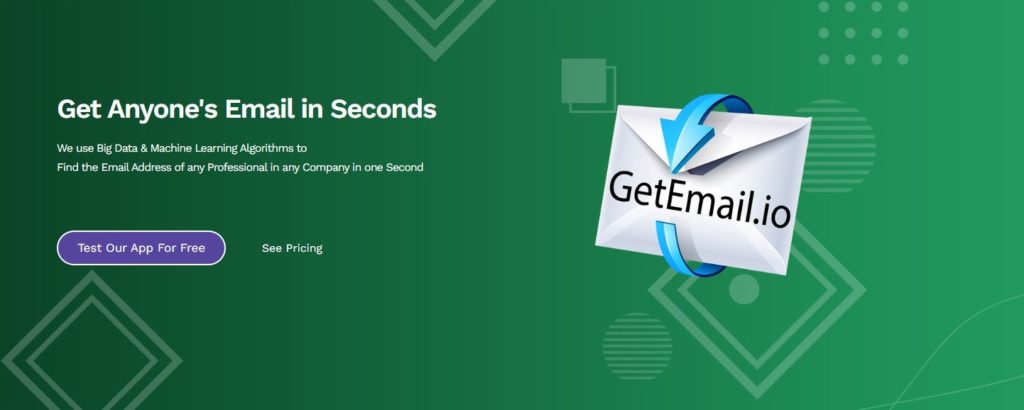 GetEmail.io is an ideal tool for marketers who want to filter their email lists and open up the best prospecting opportunities.
This tool is trusted by some of the largest companies worldwide, including Google, Oracle, Shopify, etc.
The operational system of GetEmail.io is based on AI and machine learning, providing fully optimized email lists to its users.
The interface is simple and user-friendly.
Pricing: Plans start from $49 per month. A free trial version is available, as well.
#5 NeverBounce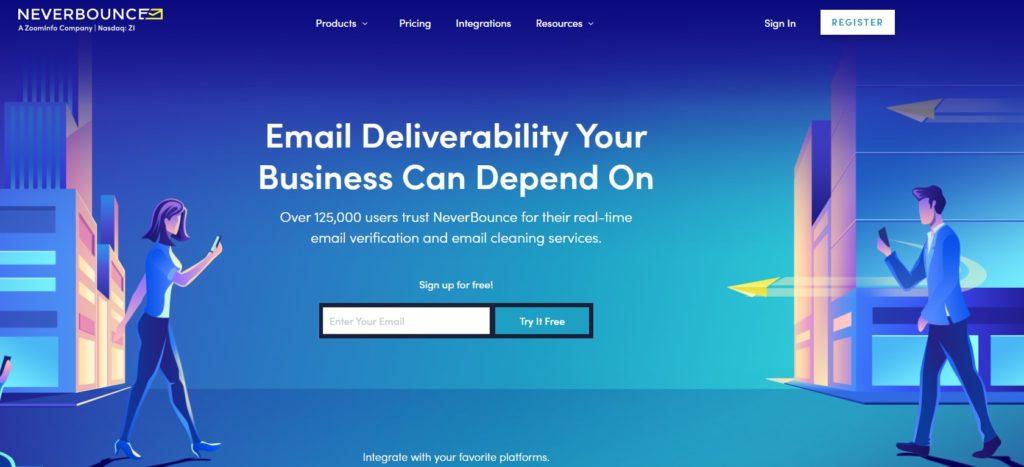 NeverBounce is another affordable yet efficient and user-friendly email validation tool. Ideal for bulk email for validation marketing teams and not only.
This tool promises to ensure 99.9% email deliverability to its users.
NeverBounce additionally offers a ton of third-party integrations such as Mailchimp, Hubspot, Salesforce, etc. The list is being updated regularly.
Pricing: Plans start from $10 per month. The tool also offers enterprise packages for over 1 million emails.
#6 Pabbly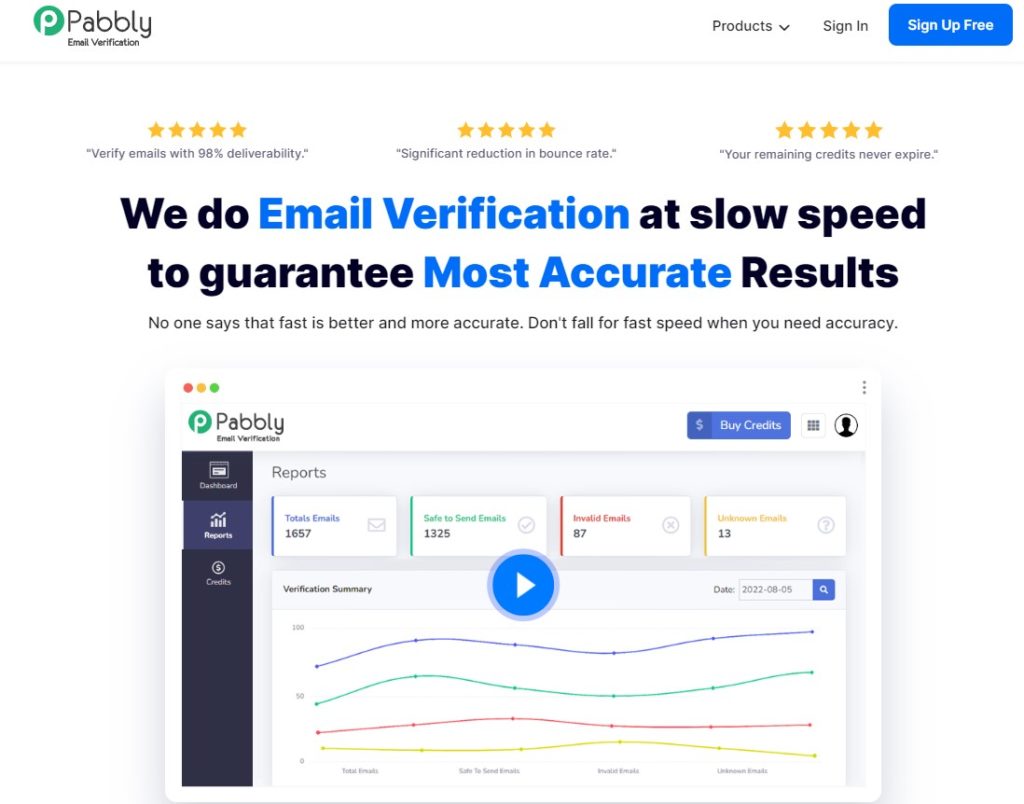 Pabbly is a marketing-focused email verification system providing results at a slower speed but guaranteeing higher accuracy results.
The features of this tool include but are not limited to domain confirmation, deletion of duplicates, and syntax elimination.
Overall, the marketing and sales team appreciate the tool.
Pricing: Plans start from $5 for checking 1000 emails. A free trial plan is also available.
#7 Emailable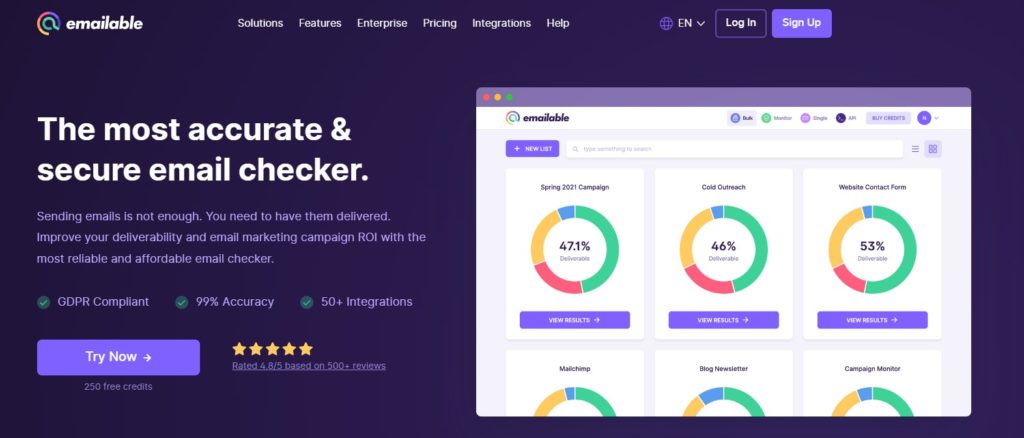 Emailable is an easy-to-use email verifying tool, used mostly by larger companies.
Allows the detection and elimination of fake and invalid emails and helps to improve marketing efforts.
It provides an API, which can be connected to your app or website. The data is backed up in Google Cloud and provides large-scale availability and low latency.
Pricing: Plans start from $35 for 5000 checks. A free trial version is available, allowing bulk checks.
#8 mailfloss
mailfloss is another simple and easy-to-use tool that ensures high marketing campaign ROI.
The tool operates quite fast, taking around a minute to create and set up an account. In addition to email verification, mailfloss checks, and fixes errors and typos.
Pricing: Plans start from $17 per month. A 7-day free trial version is available.
#9 Verifalia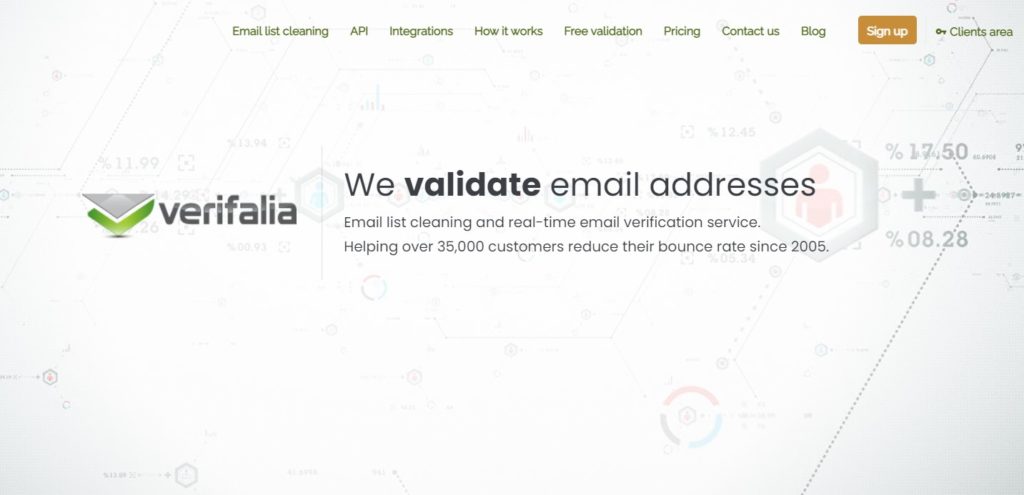 Verifalia is another affordable real-time email list verification tool. Its main features include domain check, syntax validation, spam detection, and more.
More difficult email servers can be navigated with the highest accuracy through the premium validation services of Verifalia.
Pricing: Plans start from %9 per month. The plan allows 250 verifications a day. A free trial is available as well.
#10 EmailListVerify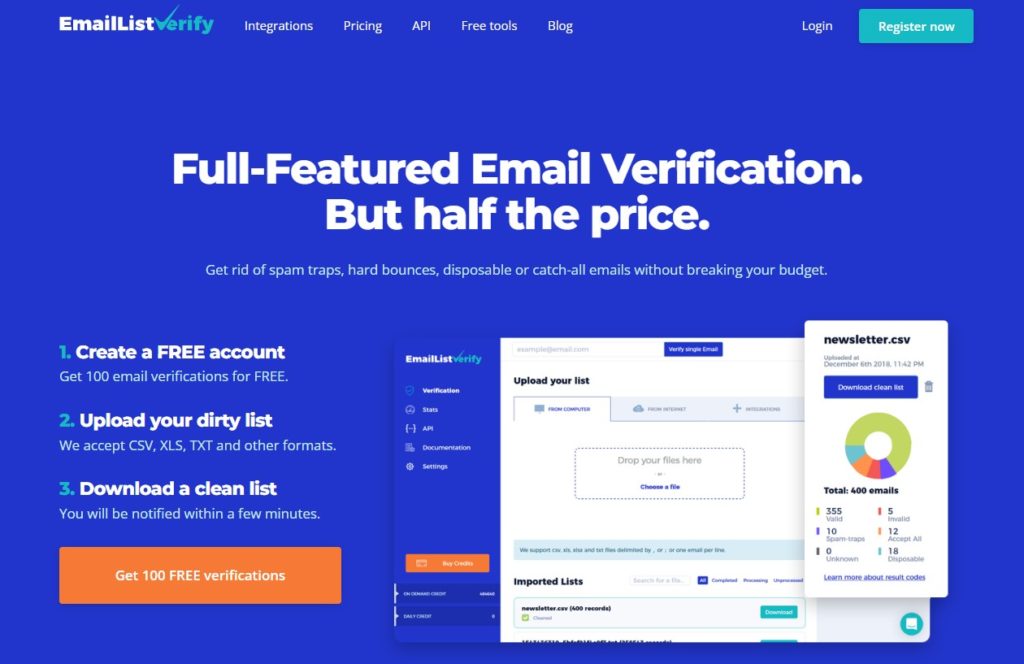 EmailListVerify is a cost-effective full-featured email verification tool, which allows the elimination of spammy emails, bad bounces, etc.
Ideal for bulk email verification. Supports CSV, TXT, and XLS files for bulk verification.
In addition to checking the email list for deliverability and validity, the tool removes all the duplicates, providing a clear list ready for prospecting.
Pricing: Plans start from $4 per month for verifying 1000 emails.
Conclusion
Email addresses can tell a lot about your users or prospects. Hence, you need to always optimize the email lists you want to use for marketing or sales purposes.
Using the tools listed in this article, you can quickly and efficiently eliminate invalid and misspelled email addresses from your marketing lists that undermine your campaigns' ROI. AI tools can mainly ease your work and get you to better results. To maintain the highest deliverability possible, use any email validation system regularly.
---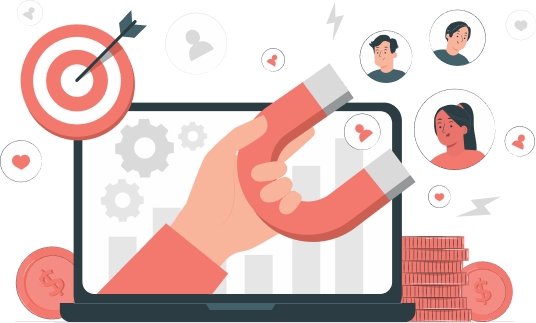 Marketing Specialist | Content Writer
Experienced in SaaS content writing, helps customers to automate time-consuming tasks and solve complex scraping cases with step-by-step tutorials and in depth-articles.
Follow me on Linkedin for more SaaS content