Email marketing has become an essential part of anyone's business life. It is a proven way of reaching a large number of potential customers, increasing sales and revenue.
However, it is not an easy job to craft and send mass emails to 1000s of leads, especially when using a traditional Gmail account. The problem becomes more severe with Gmail putting restrictions on mass emailing.
But, did you know that there is a way you can use to send 1000s of emails in bulk using your Gmail?
In this article, we are going to reveal how to mass send 1000s of emails in bulk with Gmail without being marked as spam or backlisted.
How to send 1000s of emails in bulk
So how to mass send 1000s of emails in bulk with Gmail?
The most proven and simplest way to send email campaigns to 1000s of recipients is using Hexospark. 
Hexospark is an all-in-one email and CRM platform that makes it easy to capture leads and send personalized email campaigns at scale. It will help you increase your engagement rates, boost sales and skyrocket your business.
Key features of Hexospark enable you to create email campaigns from scratch and send them to thousands of emails without being blocked or marked as spam.
Best of all, with Hexospark, you can send emails from almost any email provider, including Gmail, Microsoft Outlook, Yahoo Mail, Zoho, etc.
Below, we will show you how to send mass emails in Gmail using Hexospark.
It's simple, fast, and scalable!
Steps to send mass emails from Gmail using Hexospark
Step 1: Sign up for a Hexospark account
In order to create campaigns and send emails via Hexospark, you need to sign up for an account.
You will also need to ensure you're using a Google Workspace email account for the best results.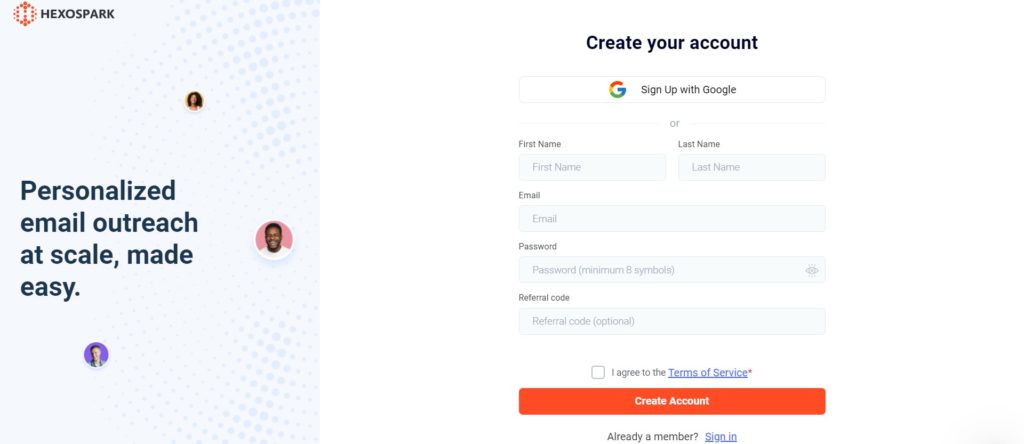 Then, create a workspace.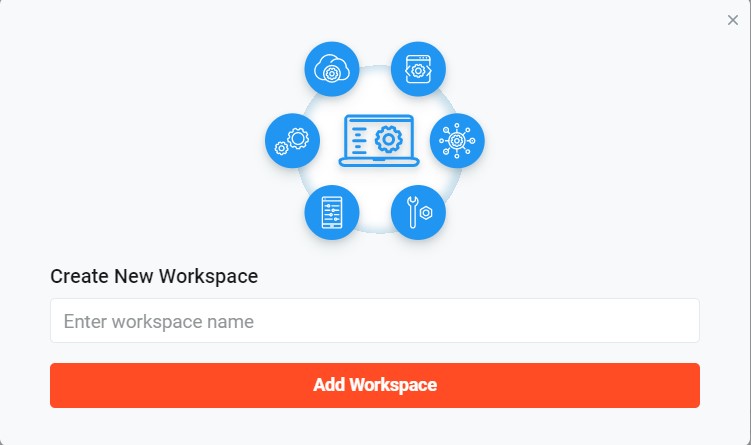 In your workspace, you have the ability to incorporate contacts, email templates, and a ton of other useful features.
Step 2: Add your Gmail to your workspace
For sending your email campaigns right from your Gmail, you need to connect your Gmail account to Hexospark.
You have 2 ways to do that. First, Hexospark has a Google integration, enabling you to directly connect your Gmail account to your workspace.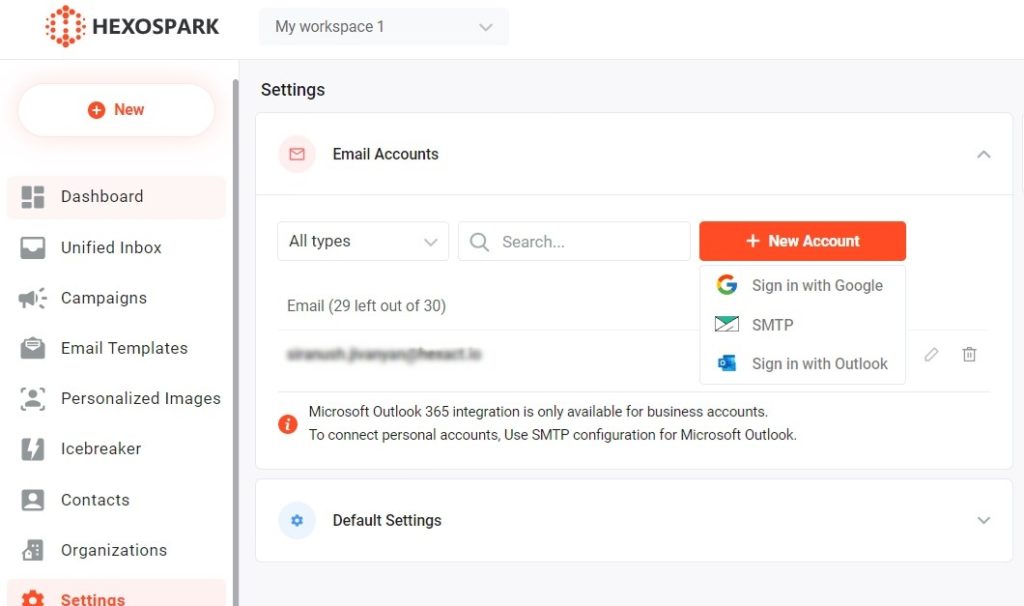 Alternatively, you can use the SMTP option for adding Gmail to your workspace.
Step 3: Create your contacts list
At this stage, you need to prepare a list of your prospects, including their email addresses and names. You can use the email discovery automation of Hexomatic to scrape email addresses from any website. Additionally, we recommend checking each email address for validity using the email address validation automation of Hexomatic. A huge advantage of Hexomatic is that you can accomplish both email discovery and verification within a single workflow, saving you from having to spend hours on manual work.
Remember to include the names of your contacts in the list as it will make your emails look more professional and personalized and help to avoid spam filters.
You can create your list in a CSV file which you can then upload to Hexospark or manually create the contacts inside the CRM of Hexospark, which lets you add not only the name and email of the recipient but also their organization, position, education, social media accounts, and more. You can create folders and store each category of leads in a separate folder.
Step 4: Create your email campaign
After preparing your email list, you can create your email campaign from scratch.
Step 5: Add your email list to the campaign
Next, you can add your email list to the campaign by uploading a CSV file or adding it to your existing Hexospark contacts lists.

The best way to send emails at scale is to start with a small number of emails sent daily, matching your usual cadence of email sending. Then you can scale by increasing this as well as by adding more email accounts to send from.
Note that if you aim to send, for example, 50 emails daily, you need to set the daily sent email limit to 50 in the Gmail Settings of your Hexospark account.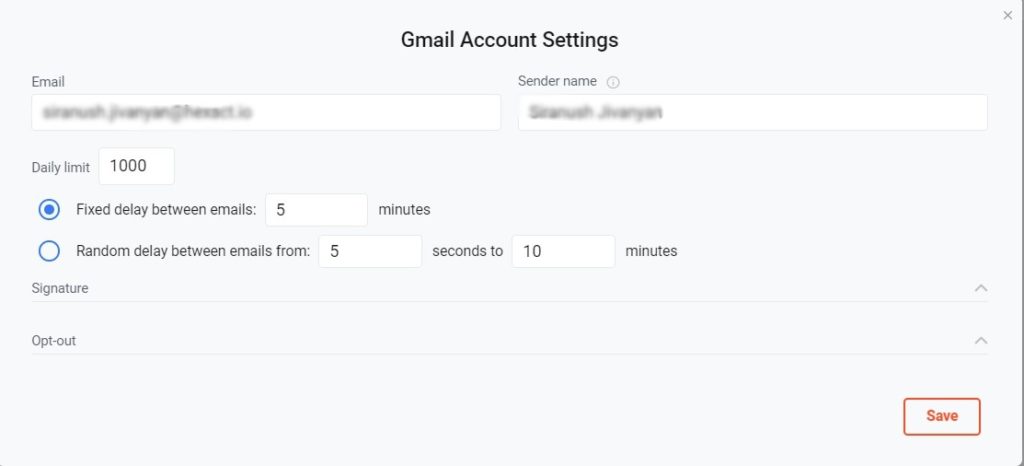 However, if your Gmail account is new, we recommend you start by sending 20 emails daily not to get backlisted.
Step 6: Craft your email
You can compose your email from scratch or choose from over 80 ready-made email templates of Hexospark, tailored for almost any use case. You can also tweak the ready-made templates to better match your requirements.
With Hexospark, you can create professional and personalized emails by adding variables and image personalization. This makes sure that each of your prospects is greeted individually, with their name and, if necessary, a personalized image.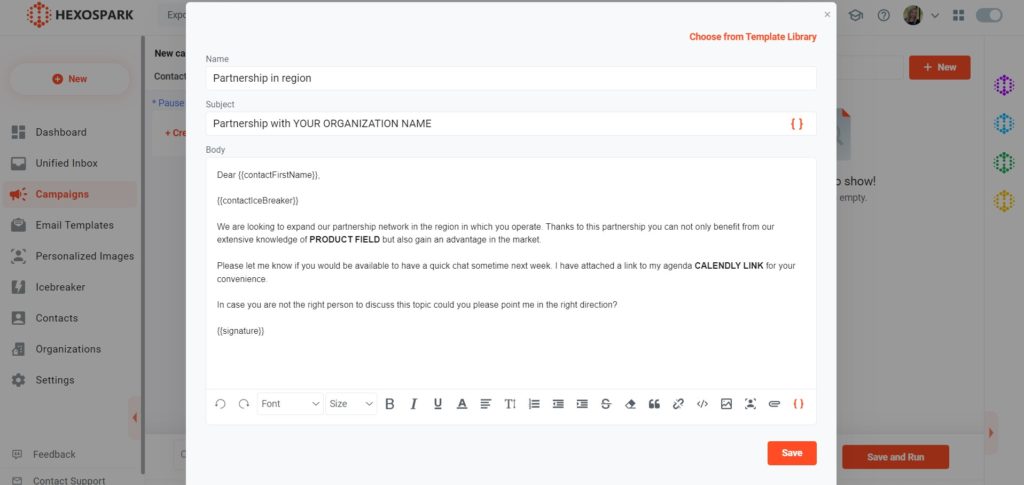 Step 5: Schedule your campaign
Time to schedule your email campaign. First, choose the account from which you want your emails to be sent. In this case, it should be a Gmail account.
Then, specify the best time and Hexospark will send your campaigns accordingly. It also allows you to schedule and automate follow-ups for each campaign and contact.
Before scheduling your email campaign, take into account that Google keeps track of the number of emails sent within 24 hours. So be sure not to exceed the limit set for your Google account.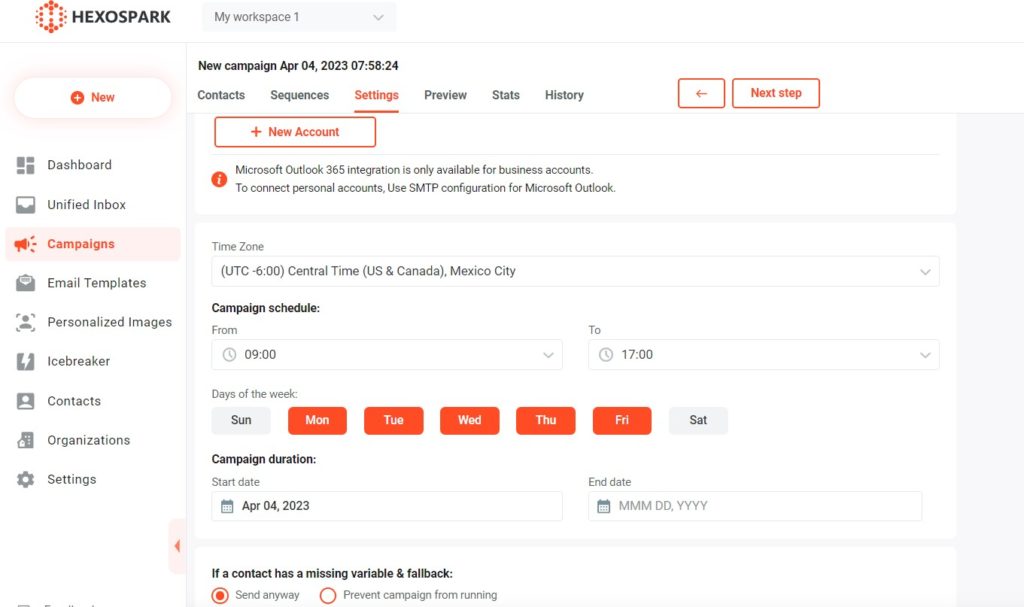 Step 6: Send the emails
Lastly, preview your campaign to be sure it is error-free and send it by clicking Save and Run.
Tips to send mass emails without spamming
In this section, we are going to share with you some tips you can use to avoid your mass emails being marked as spam or backlisted.
Verify emails before adding them to the list
Sending emails from unverified may lead to high bounce rates and spam reports. When an email bounces, it indicates to your email provider that promotional emails are being sent. This can potentially affect the deliverability of your emails.
To avoid this type of risk, you can use email verification tools, like email address validation or email verification by EasyDMARC automations of Hexomatic.
Use unsubscribe links
It is essential to add unsubscribe links to your emails for keeping your email lists professional and free of spam reports and domain blacklisting. 
Hexospark enables you to add customizable unsubscribe like to your emails to make sure your email lists are clean and free of any risks.
Unsubscribe links are important in terms of compliance as the CAN-SPAM act marks them mandatory for outreach emails.
Personalize emails
When emailing a large number of prospects, it is crucial to customize your emails to make them more interesting and increase the likelihood of receiving a response.
With Hexospark, you can personalize email templates and content at scale with minimal effort, while still being able to send outreach messages in bulk.
Final Thoughts
In this article, we presented to you how To mass send 1000s of emails in bulk with Gmail.
The most optimal and beneficial way of sending mass emails to 1000s of recipients is using an email tool.
This way you present yourself as a more professional sender keeping your emails and domain free from any risk and ensuring high deliverability and response rates.
---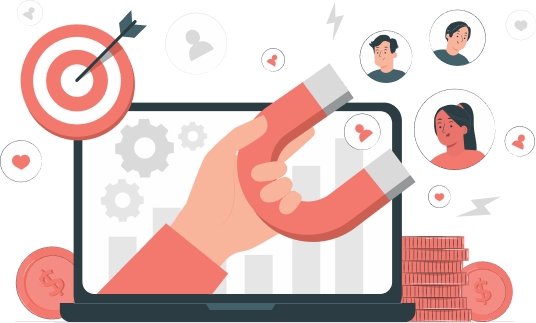 Marketing Specialist | Content Writer
Experienced in SaaS content writing, helps customers to automate time-consuming tasks and solve complex scraping cases with step-by-step tutorials and in depth-articles.
Follow me on Linkedin for more SaaS content