To close that deal or chase that lead, you need to be able to break through the clutter and reach your recipient.
Whilst your subject line and email content are the most important part for sure, what about the signature?
You might think that the email signature is nothing more than a fancy design. That's not true as the signature can serve as a powerful marketing tool to gain more authority and clinch that deal.
The good news is that creating an email signature is not rocket science and you don't need to worry about how to create a stunning signature. In fact, there is a plenty of online handwritten signature generators that can do the job for you.
In this article, we have listed the best and easiest signature generators that will get you your professional-looking email signature in a few clicks.
We will start with the most popular and free email signature generators, then explore more complex and paid ones to help you make the right choice.
#1 Designhill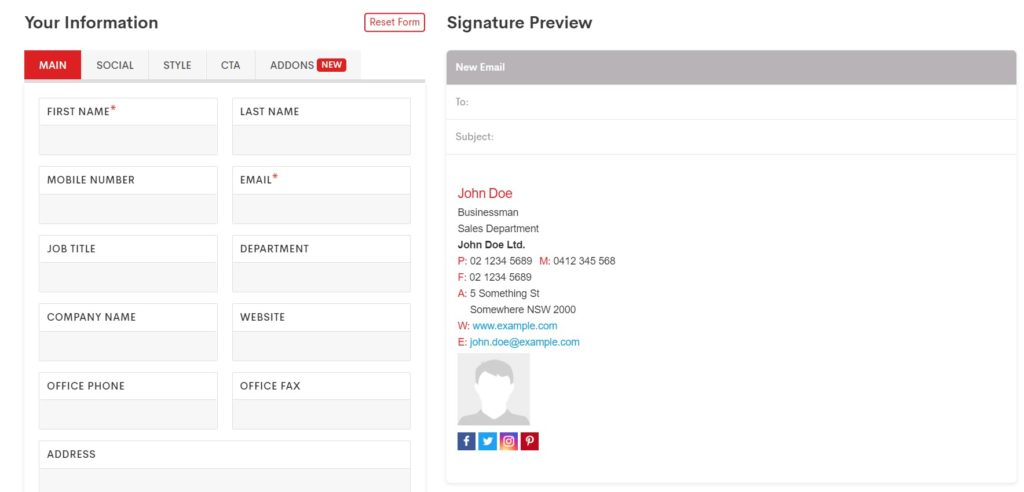 Designhill is a completely free and easy-to-use professional handwritten signature generator. It can create email signature templates for any taste. No plugins are required.
To use this tool, you need to first fill in information about your company, then choose the signature style, call to action, and add your social media profile links. Once complete, just press the "Create a signature" button and insert your newly-created signature into your email account.
#2 Signature Maker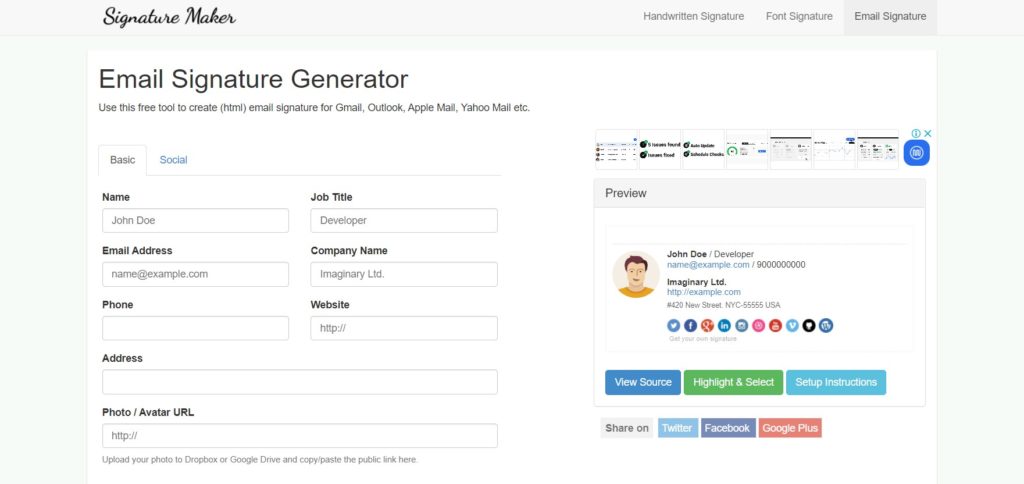 Signature maker is another popular free signature generator offering personalized-handwritten signatures. No additional plugins or programs are required to use the tool. The website layout is simple and plain.
You just need to fill in your personal information, and company details, add your desired avatar and fill in your social media profile links. You can see the progress in the Preview section. After completing, you can insert the ready signature into your email account.
#3 Mail Signatures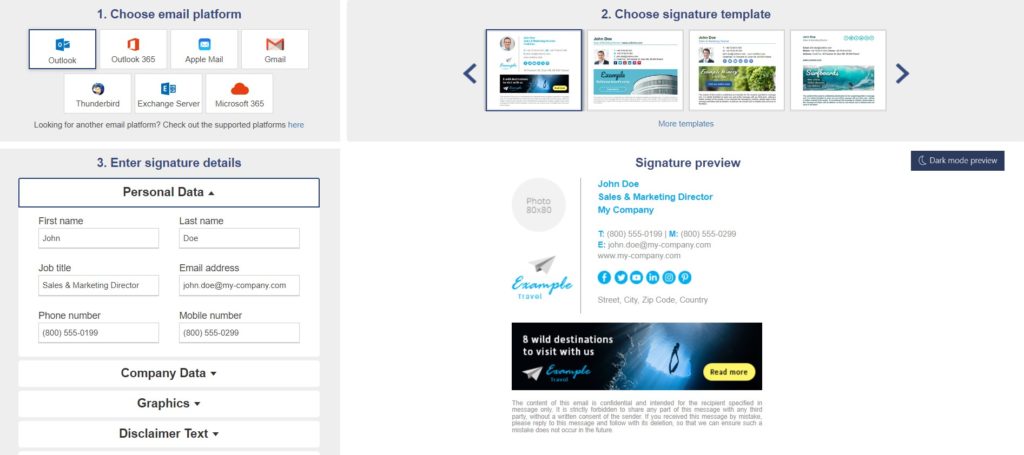 Mail Signatures is another straightforward email signature generator. This tool is ideal for small businesses and freelancers. You can either choose to create your signature from scratch or choose among the ready-made templates.
All you need to do is fill in your personal information, business details, logo, and your social media profile links. After completing, click the "Apply your signature" button, and, voila, the custom-made signature is ready.
#4 Email Signature by Hubspot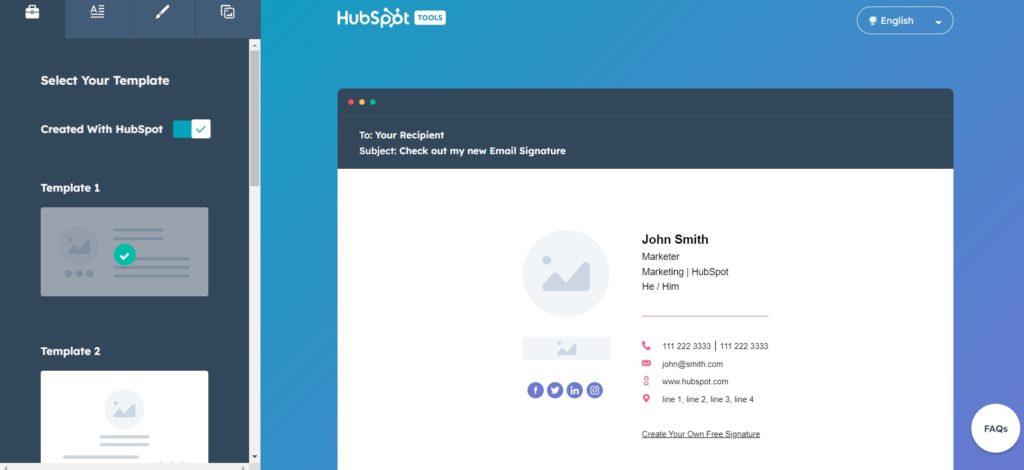 Everyone knows Hubspot with its numerous templates and tools. But, did you know that it has a free email signature generator? It is a nicely designed signature creator tool with a simple layout. You just need to choose your template, and style, add company information, and upload your photo.
#5 My Signature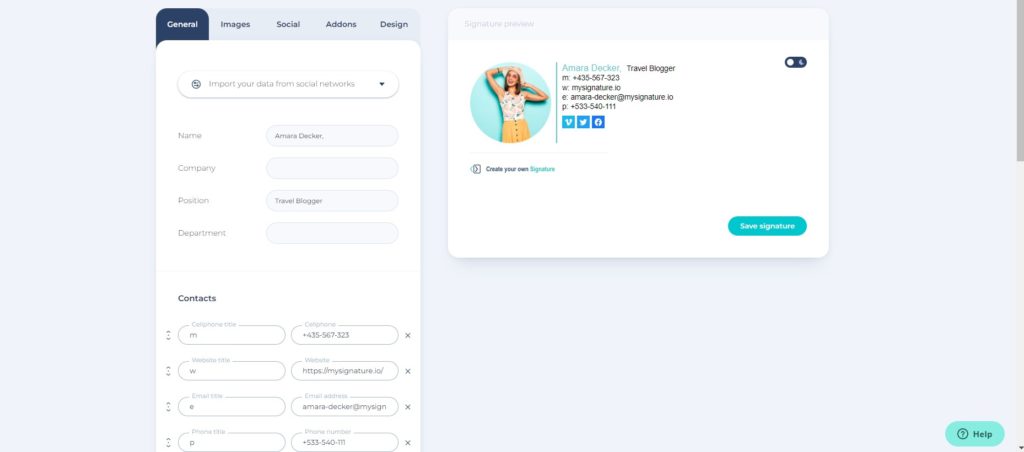 My signature is one of the most popular versatile signature generators. This tool has both a free version and a PRO version with more advanced features including templates that can be used only via the PRO version.
The layout is simple and intuitive. You can choose among the ready-made templates, then add your personal and company information, the image, social media account links, other contacts, etc.
#6 Wisestamp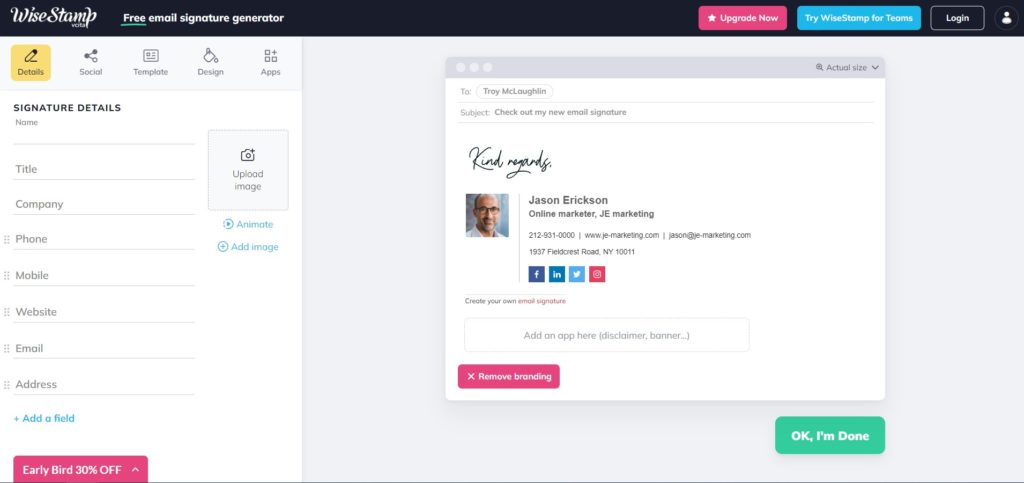 Wisestamp is another cool signature creator tool. Its features are divided by plans, with one of them being totally free. You can choose among the 50 ready-made templates. This tool offers some additional features, including a custom CTA button, Zoom call integration, and more.
#7 Gimmio (formerly ZippySig)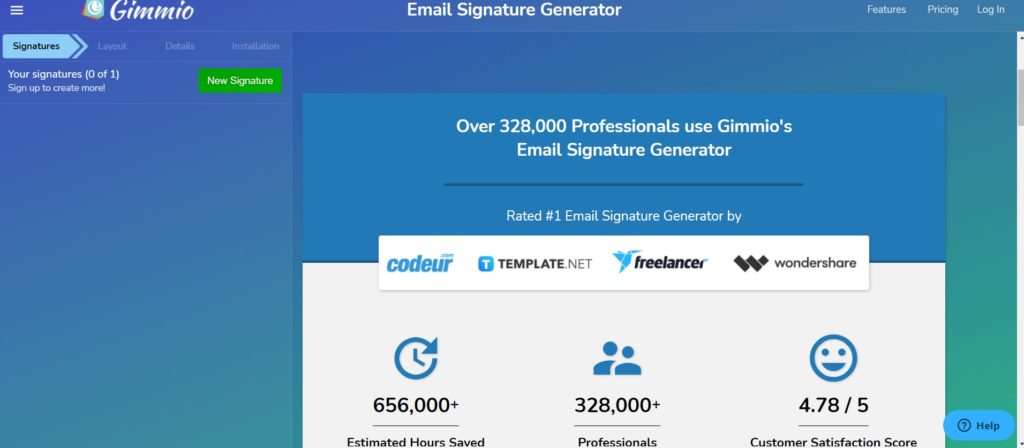 Gimmio offers advanced customization options for email signatures. This tool is ideal for both small and large companies, and, especially, marketing and design agencies. Gimmio offers over 40 templates to use for free. Gimmio plans start from 28$ per year. Additionally, it offers a 7-day free trial option.
Gimmio was recognized as the #1 signature generator by Freelancer.com, Template.net, codeur.com, and wondershare.
#8 Mailcastr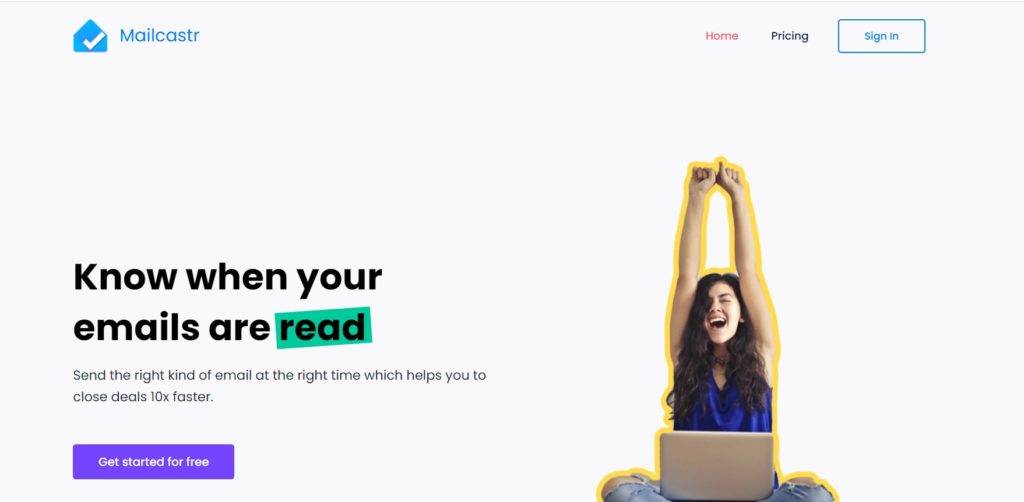 Mailcastr is an affordable paid email signature generator with more advanced features, it's more than an email signature creator. In addition to being an email signature generator, this tool will alert you whenever your recipient reads an email that has your signature attached. By doing so, you'll be able to tell who's reading your emails and who isn't.
The paid plan of Mailcastr is 5$ a month. Additionally, it offers a free plan with limited possibilities.
#9 Growth Mail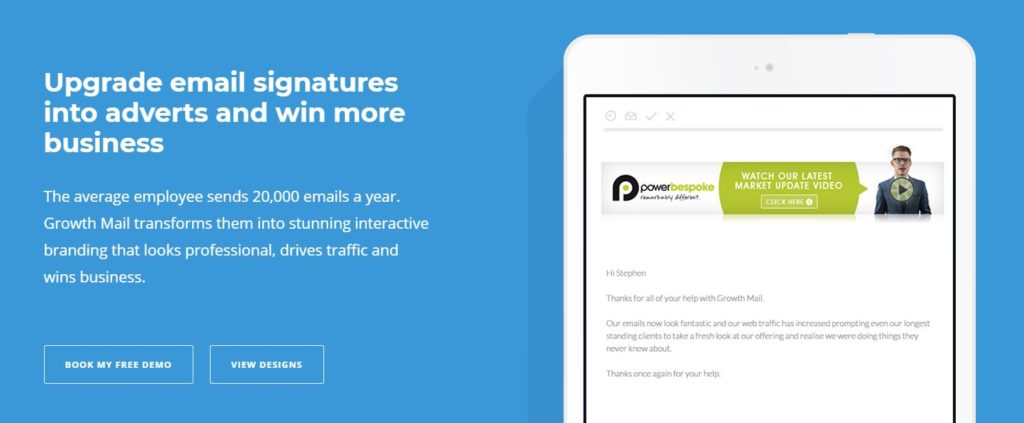 Growth Mail is a super-useful email signature generator that allows you to create your professional signature in a few minutes. But this tool has a bonus feature that is worth mentioning. With Growth Mail, you can upgrade your email signatures into advertisements to make your branding look more presentable and bring more results.
#10 Email Signature Rescue

Email Signature Rescue is a truly efficient and accurate email signature creator. The website layout is super easy to use and has a ton of useful features. You can choose among the 20 ready-made templates, plus you can easily add a ton of social media icons, animated banners, and gifs to your signature.
Additionally, Email Signature Rescue allows you to track integration with Google Analytics.
This is a paid tool, and the plans start from 48$ per year. Check out this tool for its amazing advanced features.
Closing Thoughts
Your email signature is one of the most direct and efficient ways to gain authority.
In this article, we listed some of the most popular and easy-to-use tools to help you create truly professional and engaging email signatures.
Your outgoing emails should include an email signature to ensure that your recipients can contact you in multiple ways. To give recipients the easiest access to information, you should always make your website, email, and other links clickable, and have your image and social media profile link.
If you don't insert an email signature to your email yet, don't hesitate to create one using one of the tools mentioned above.
---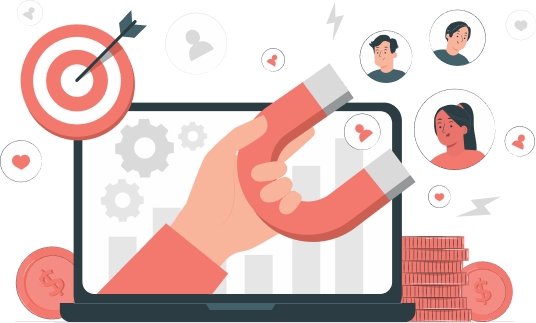 Marketing Specialist | Content Writer
Experienced in SaaS content writing, helps customers to automate time-consuming tasks and solve complex scraping cases with step-by-step tutorials and in depth-articles.
Follow me on Linkedin for more SaaS content