Email is one of the most used and most effective communication channels helping businesses to reach a targeted audience, generate more leads and clients, find more networking opportunities, drive more revenue, and more.
According to Statista, 61% of consumers in the United States prefer to be contacted by companies via email. 
Email marketing also provides businesses with valuable data and insights into their markets. By tracking open rates, click-through rates, and other metrics, businesses have the chance to can gain a better understanding of what resonates with their audience and adjust their messaging and strategy accordingly.
The most difficult part of email marketing is finding the right emails and creating that perfect email list especially while looking for a large number of emails. So, visiting each website and finding the targeted emails is not realistic, as it takes too much time and effort and may result in inaccuracy and outdated information.
This is where email finder tools can come to the rescue.
In this article, you will find the 10 best email finder tools to take your email game to the next level.
Check them out!
What is an email finder tool?
An email finder tool is software that can help anyone find personal or company email addresses online from a variety of sources. Most email finder tools operate as web applications or web browsers․ They use different algorithms and databases for searching for and verifying email addresses associated with a given name, domain, or company.

Benefits of using email finder tools
Using an email finder tool is ideal for marketing and sales outreach, lead generation, personal communication, and networking. Email finder tools have a ton of benefits both for businesses and individuals, including:
They help to assure the accuracy of data. Compared to manual searches, email finder tools assure high-quality and accurate data which can be used for a variety of purposes.
Using an email finder tool helps to save tons of time. Rather than manually finding and copy-pasting data, you can have the data automatically searched and transferred to a convenient file format.
Email finder tools help to expand the reach of the search by finding email addresses of companies and individuals that are impossible to be detected via manual search. This helps to expand the reach and contact more people and businesses.
Finally, email finder tools are cost-effective. Using these tools is much more cost-effective, than, for example, buying email lists.
10 Best email finder tools
In the list below, you can find the best email finder tools you can use for a variety of purposes from personal communication to lead generation and marketing outreach.
#1 Hexomatic

Hexomatic is a no-code web scraping and work automation platform that enables you to perform 100+ marketing, research, sales tasks, and more.
Hexomatic is available as a web application working on the cloud.
This platform is ideal for those who need to scrape large numbers of email addresses from different websites and web pages.
Hexomatic includes 2 built-in automations that can easily detect email addresses from anywhere: Email discovery and Emails scraper. Using Email discovery automation lets you find email addresses from any website in minutes. Emails scraper can automatically capture all the email addresses published on a web page. Best of all, you can export the scraped emails to a convenient Google Sheets or a CSV file.
Additionally, Hexomatic lets you verify the scraped emails. All you need is to add the Email Address Validation or Email Verification by EasyDmarc automation to the email finder automation. This means that you can both scrape and verify the desired email addresses in a single workflow and in a few minutes.
Pricing: Plans start from $49. The platform offers a free trial option.
#2 Hexospark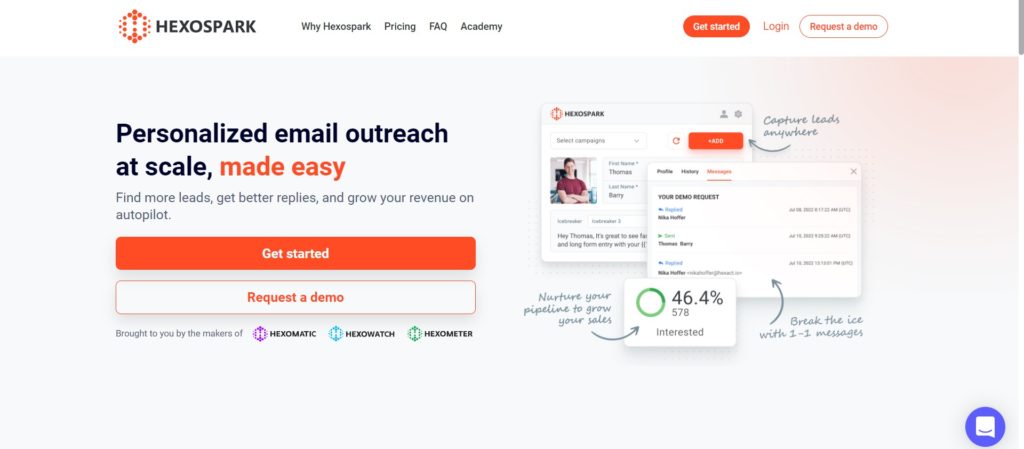 Hexospark is an all-in-one email outreach and CRM platform making it easy to find leads, send, create perfect email lists, send hyper-personalized email campaigns, and more.
Hexospark offers a web browser extension for both Chrome and Mozilla Firefox enabling 1-click capturing of contact details, including email addresses from Linkedin.
In short, the Hexospark browser extension captures your contact details, which are then integrated into the Hexospark CRM, allowing you to take your email outreach to a new level.
Pricing: Plans start from $24.1. The platform offers a free trial option.
#3 Hunter

Hunter.io a well-known lead generation platform, offers several ways of finding emails on the web.
First, you can use the Hunter Email Finder in case you already have the name and the company of your prospect, Domain Search for the case when you have a list of company names or domains and need to find the appropriate email addresses.
Additionally, Hunter offers an Email Verifier that lets you check emails for validity in a fast and simple way.
Pricing: Plans start from € 49. They also offer a free plan with limited search capabilities.
#4 Snov.io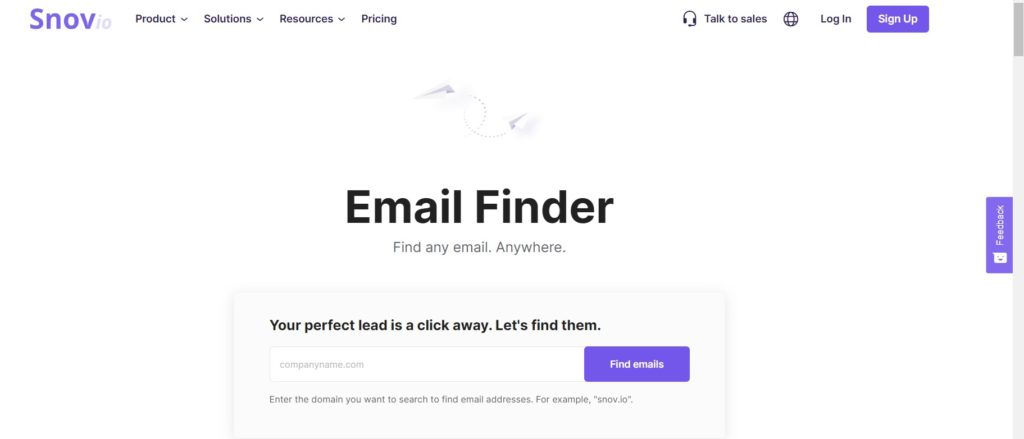 Snov.io offers a simple-to-use email finder tool allowing you to find emails by domain, the prospect name, and company name, as well as using Boolean search options.
This platform offers both single and bulk search options. Additionally, Snov.io offers a browser extension helping to capture emails from any website, including Linkedin and Twitter.
Pricing: Plans start from $30. There is a free trial with limited search options.
#5 RocketReach

RocketReach email finder allows finding your prospect's contact details, including personal and company email addresses, social media accounts, and phone numbers from its database of over 430 million professionals.
The platform allows searching for contact details based on various criteria. The RocketREach browser extension enables you to capture emails from Linkedin, Crunchbase, AngelList, and Google.
Pricing: Plans start from $36. The free plan is limited to 5 lookups a month.
#6 Skrapp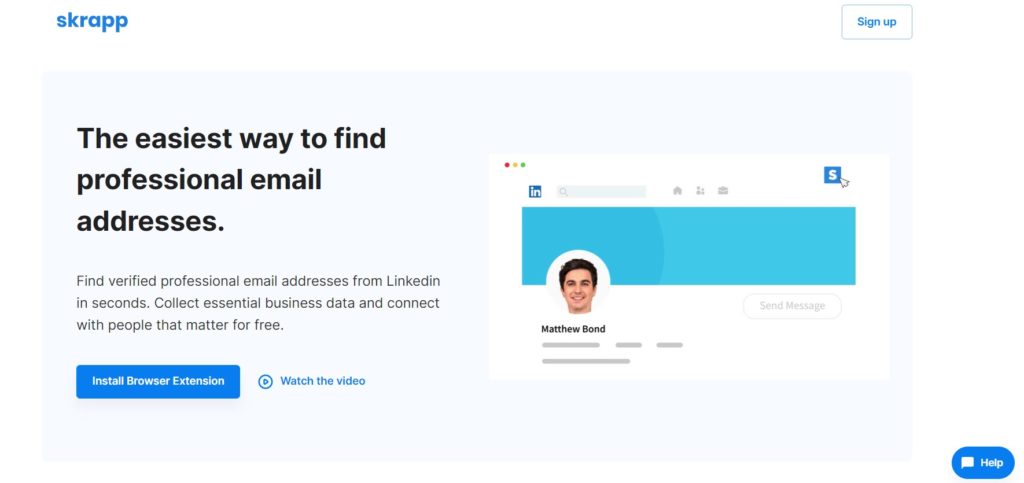 Skrapp is an easy-to-use professional email finder helping to find prospect emails by domain and by the prospect or company name. The platform also offers bulk search and export options to CSV and XLSX.
Skrapp is also available as a web browser enabling you to capture leads from Linkedin.
Pricing: Plans start from $49.
#7 Overloop (formerly Prospect.io)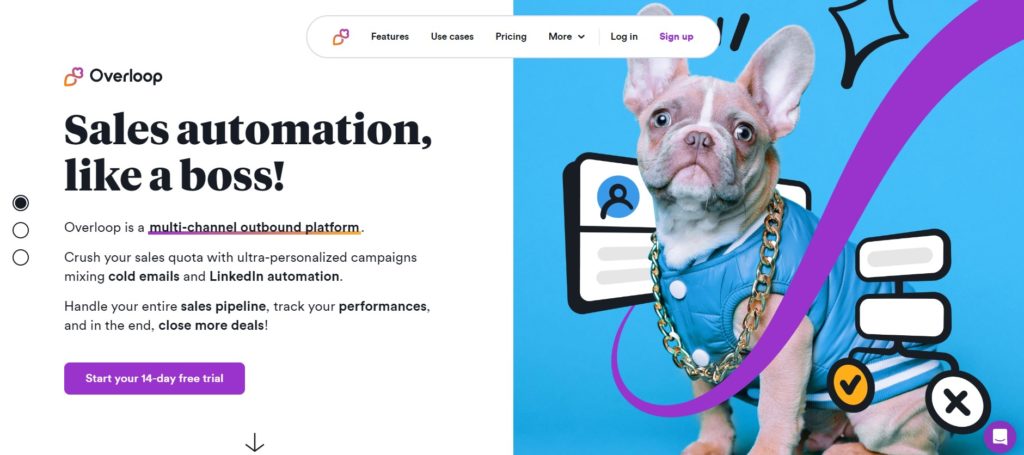 As part of the Overloop (formerly Prospect.io) sales automation platform, you can use an email finder tool that lets you scrape publicly available prospect emails.
The tool allows searching for emails by name and domain, offering single and bulk search options. Export options are available in Google Sheets and CSV. API allows integration into your CRM or App.
Additionally, you can use the Overloop Chrome extension allowing you to capture emails from Linkedin.
Pricing: Plans start from $99.
#8 VoilaNorbert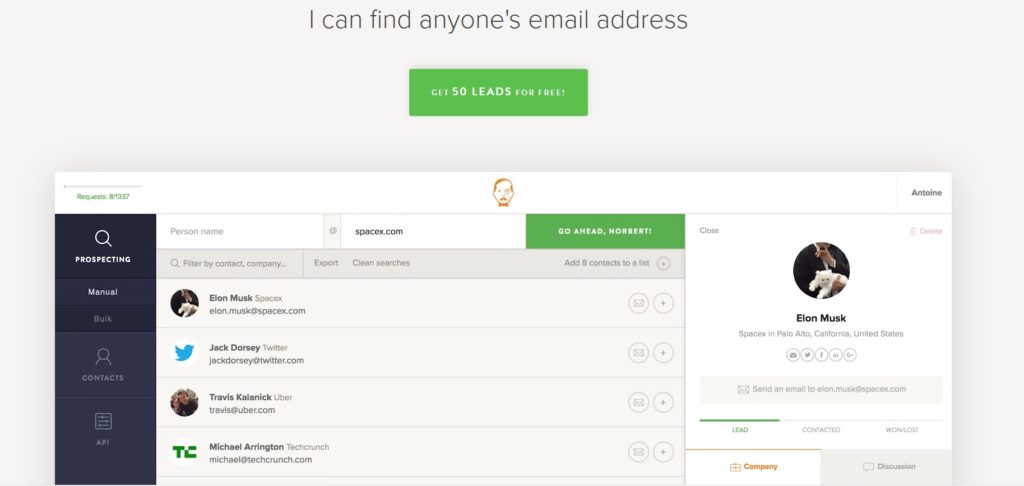 VoilaNorbert email finder lets anyone find professional email addresses by using the prospect's first name, last name, and domain. The emails detected are being verified instantly to ensure accurate results.
You can also use the VoilaNorbert Chrome browser extension to capture emails from Linkedin.
Plans: Plans start from $49. There is a free trial with limited search options.
#9 AeroLeads

AeroLeads is an all-in-one email finder and verifier tool helping to find business emails and phone numbers from Xing and Linkedin in a few minutes.
The search bar of Aeroleads allows you to add the prospect or company name and receive their contact information instantly.
Additionally, the platform offers email verifications to ensure accurate contact information.
Bulk search option is available as well.
AeroLeads offers integrations with Salesforce, Zoho, Zapier, and other famous platforms.
Pricing: Plans start from $49. There is a free trial with limited search options.
#10 Clearout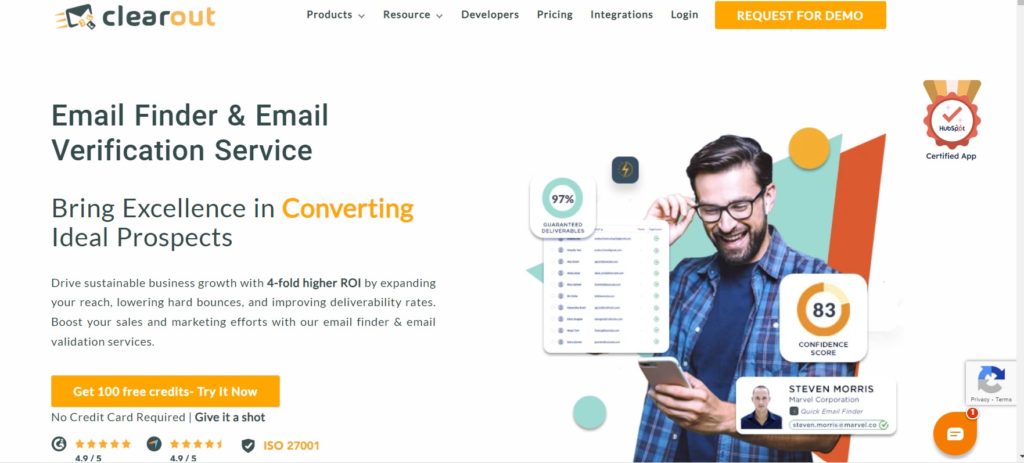 Clearout offers email finder and verification services to over 30.000 businesses worldwide. The platform offers clearout for Sheets and phone numbers in addition to email finding and verification services.
Ideal for finding B2B contact details.
Pricing: Plans start from $21.
Final Notes
When it comes to effective email marketing, every lead, and every contact detail matters.
So, finding and using the right email finder tool is key.
The list of email finder tools above can help you identify the ideal email finder tool that best fits your business requirements.
---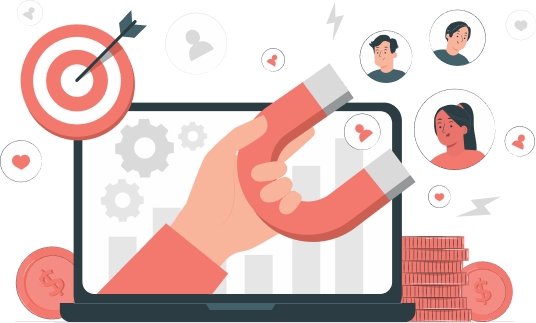 Marketing Specialist | Content Writer
Experienced in SaaS content writing, helps customers to automate time-consuming tasks and solve complex scraping cases with step-by-step tutorials and in depth-articles.
Follow me on Linkedin for more SaaS content