Welcome to Hexospark.
Before we get started, a big thank you for joining us. Our goal in the coming months is to involve our community during our last mile development and beyond to help us build the best email outreach and CRM platform.
The idea is to make it easy to capture leads, personalize emails and automate follow ups so you can book more meetings, close more deals and grow your sales at scale.
When you first create your Hexospark account you will be able to choose the geographic location where you want your CRM data stored, this is ideal if you need your data stored in Europe for privacy requirements.
Next if your plan provides access to workspaces you will be able to create your first workspace. This is ideal if you want to manage multiple projects with their own CRM contacts and campaigns.
Once you have completed this you will get access to our dashboard which provides an at a glance overview of your workspace and active campaigns.
Hexospark features the following key sections:
-Campaigns enable you to create automated email sequences that are sent at specific intervals.
-Email templates is where you can create personalized templates using dynamic variables
-Contacts is where you can upload new contacts and manage their data
-Organizations is where you can add new companies and assign to contacts.
-Settings is where you can specify account defaults and connect your email sending accounts.
Each Hexospark plan enables you to connect at least one external email account via SMTP or native Gmail/G-Suite integration. We recommend connecting your email now so that you can get started and unlock all our features.
This will enable you to personalize outbound emails, automate follow-ups and grow your sales by nurturing your leads from prospect to client in one centralized platform.
Now we have the basics setup, let's take a closer look at each section inside Hexospark and how they work:
👤 Contacts
Hexospark provides a fully integrated email outreach and CRM system where you can keep a centralized contacts list, no need for a 3rd party platforms or data syncing.
Contacts can be leads you haven't reached out to yet, partners or existing clients you want to keep in touch with.
The easiest way to import your contacts is via CSV upload, to do this prepare a CSV file and upload to Hexospark. You will then be able to match columns in your CSV to CRM fields.
Alternatively you can add contacts manually, use our browser extension to add leads from LinkedIn or use Hexomatic to capture leads from the web.
Once a contact has been uploaded you will be able to save notes, view email communications as well as save attach files to keep images, contracts or any document at hand.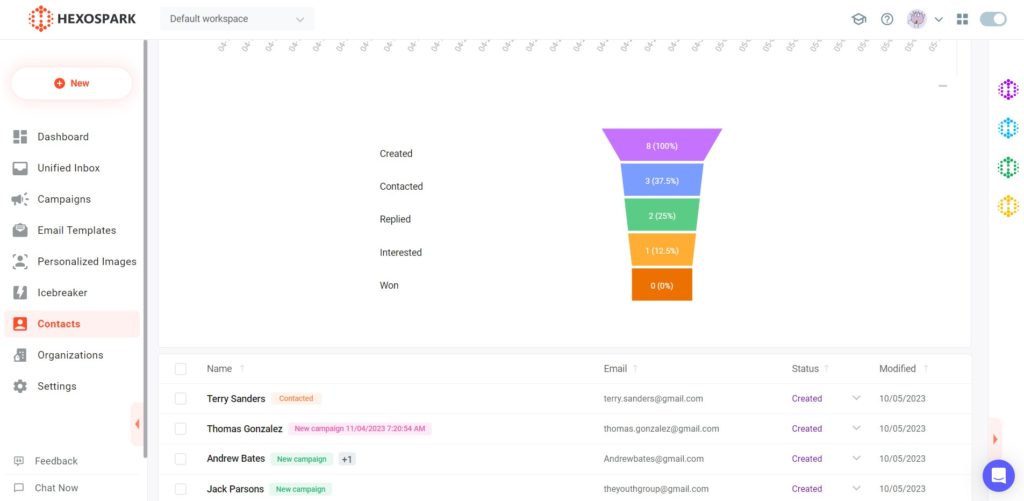 💼 Organizations
Organizations is where you can keep track of organizations assigning contacts and notes to keep your sales process organized.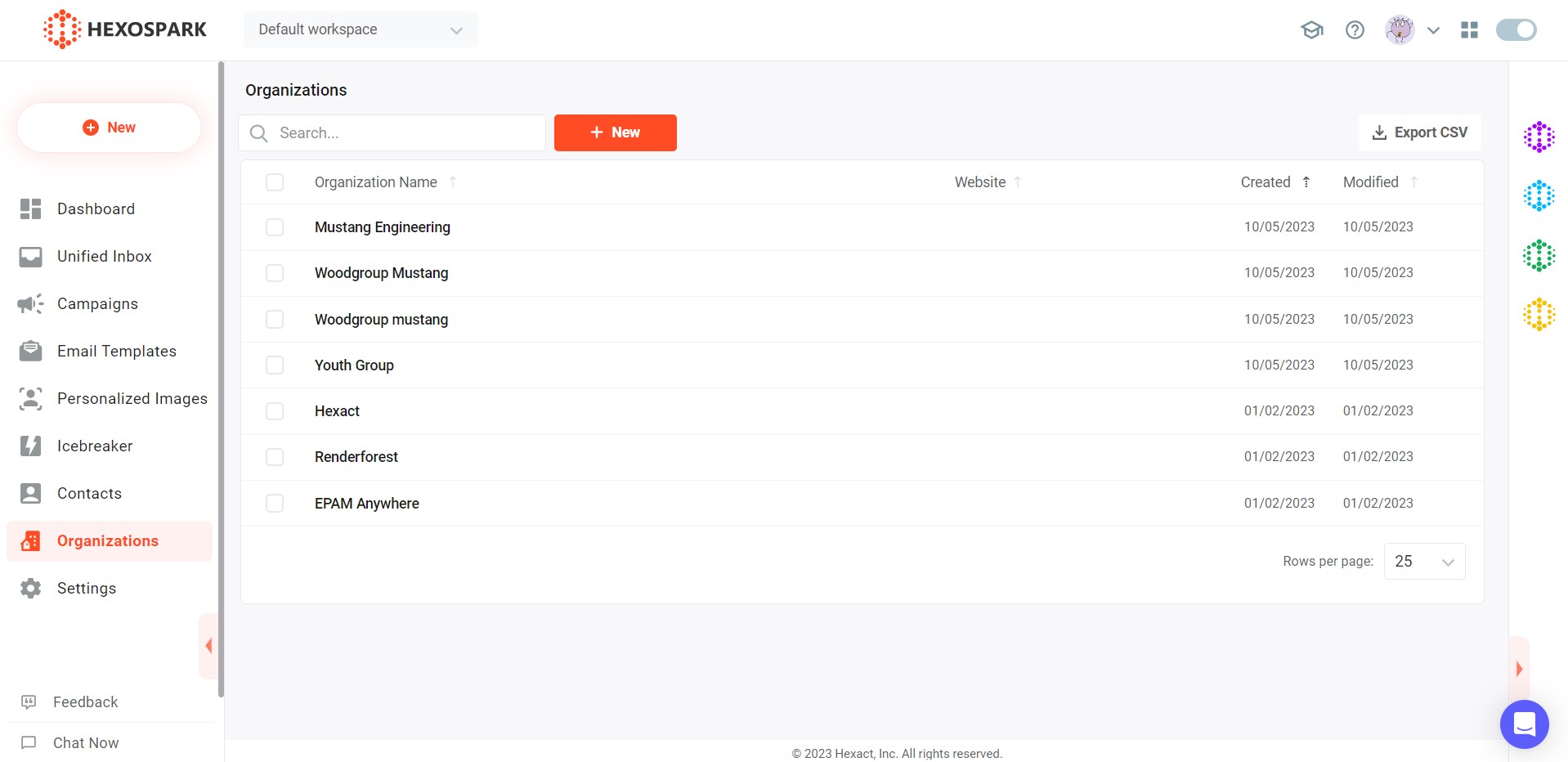 ✉️ Email Templates
The email templates section enables you to tap into our library of pre-existing email templates or create your own featuring dynamic variables to personalize messages based on your CRM data. You can then use these inside email templates to automate your email prospecting and follow up campaigns.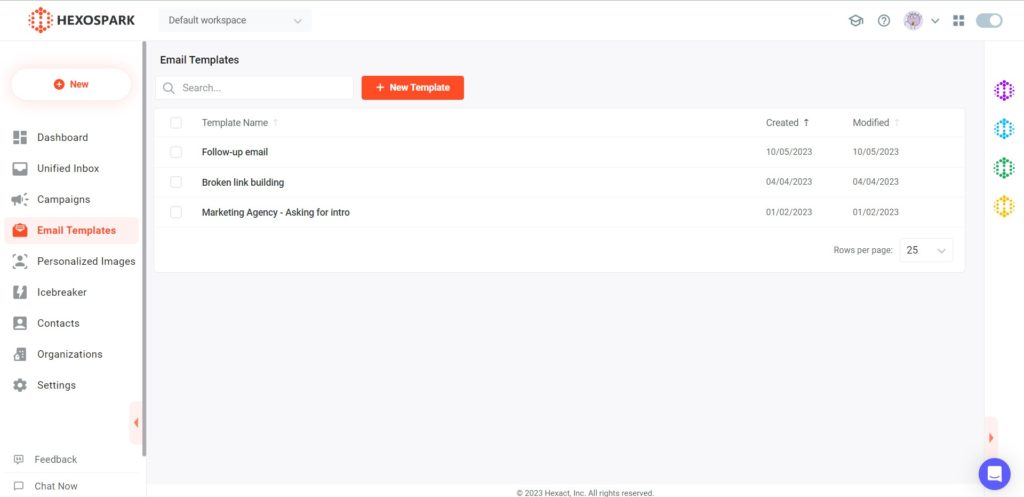 🔊 Email Campaigns
Email campaigns automate time consuming email outreach and follow ups to ensure no lead is left behind.
When you create an email campaign you will be able to send highly personalized emails to contacts based on their CRM data and schedule follow ups on autopilot based on whether they reply or not to your emails.
Once a campaign is live you can add new contacts to your sequence via our browser extension or by uploading more contacts into your CRM and assigning them to specific campaigns.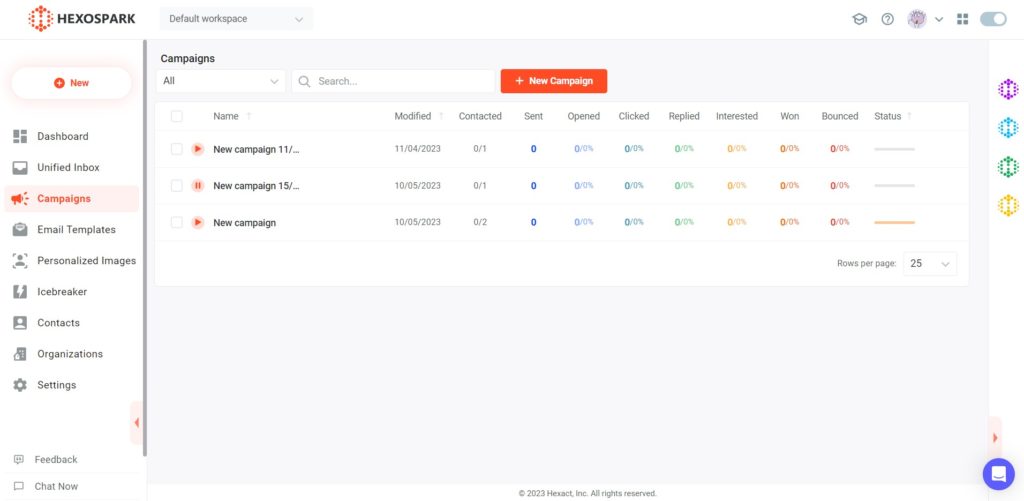 📥 Unified inbox
Our unified inbox enables you to access all your email replies, across all your email accounts right inside your workspace.
Moreover, by inviting your team members to join your workspace, they can collaborate by responding to or sending emails without the need to share email credentials.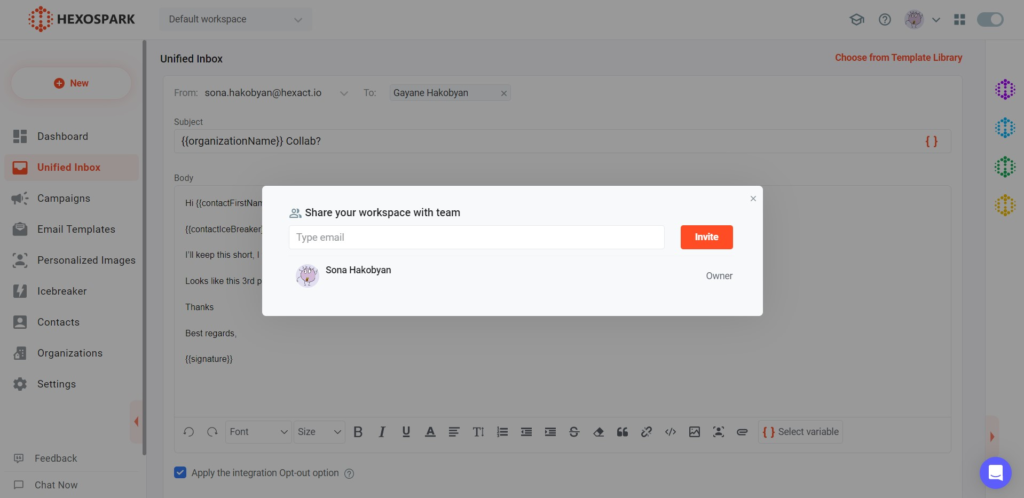 👩 Personalized Images
Personalized images are available with no limits on all our paid Hexospark plans. With this feature, you can help your prospects meet the "real" you and stand out from the crowd without any 3rd party services.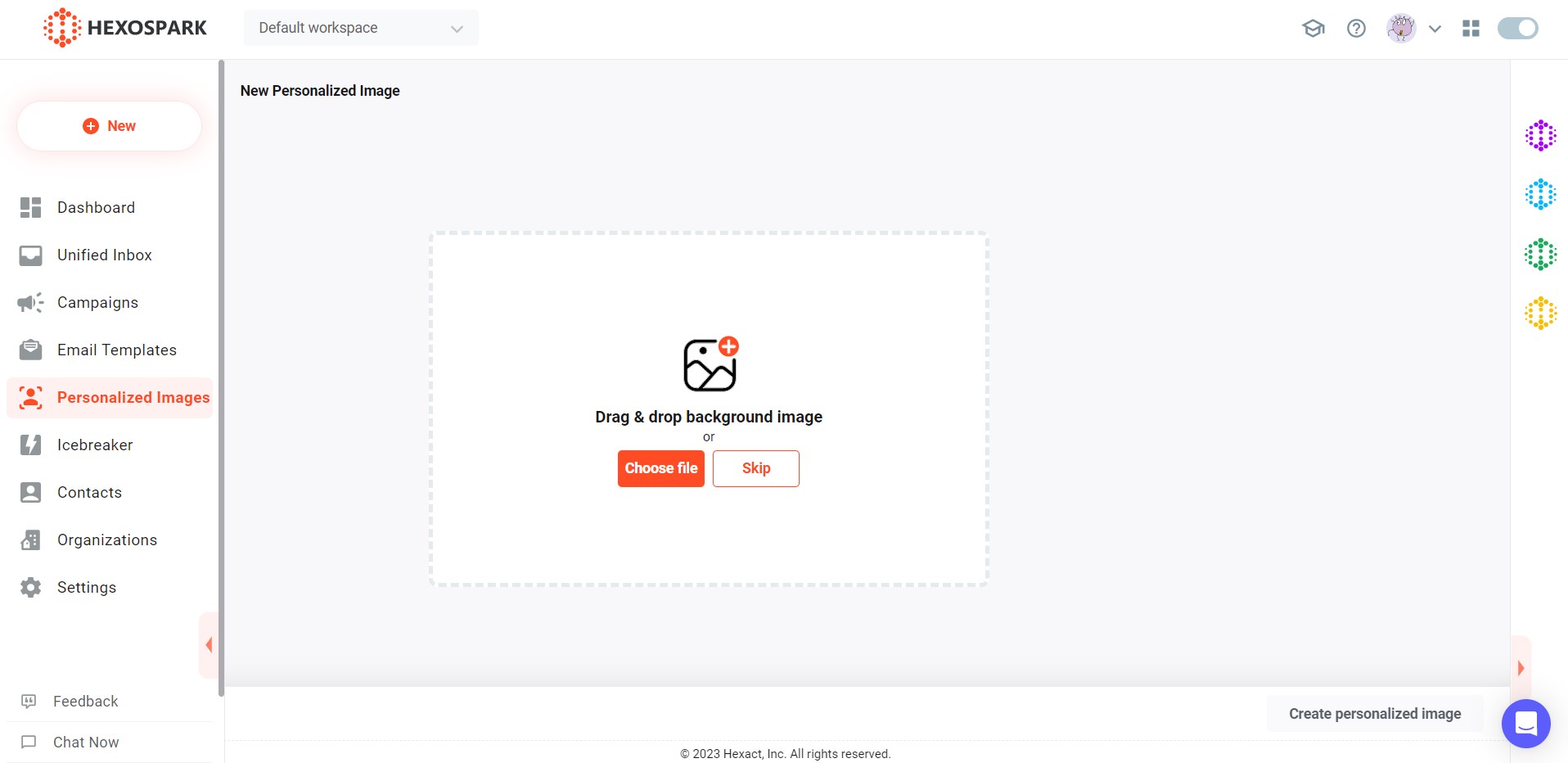 ❄️ Icebreakers
Hexospark extension gives you access to tons of icebreakers that will help you create personal messages in seconds whilst automatically adding leads from LinkedIn to your CRM and email campaigns. You can also create your own custom icebreakers using data points from our CRM and browser extensions.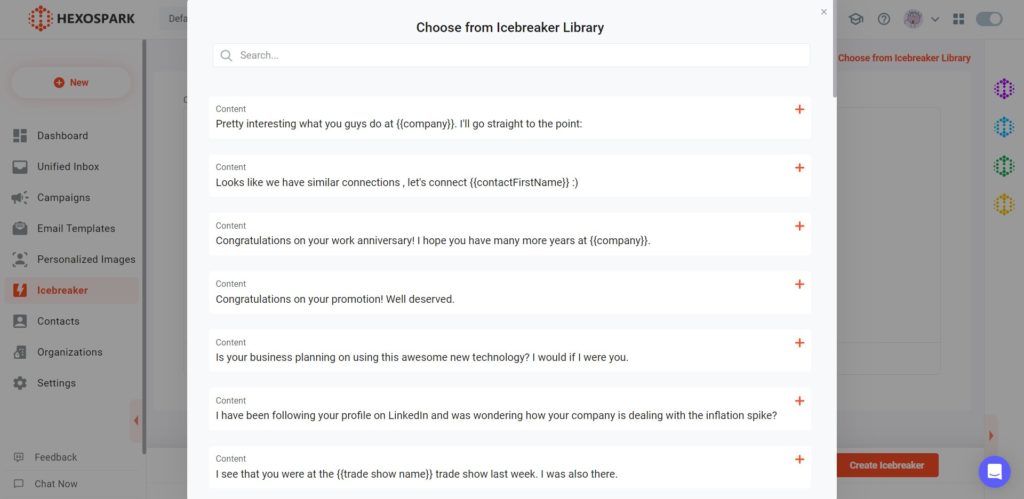 ---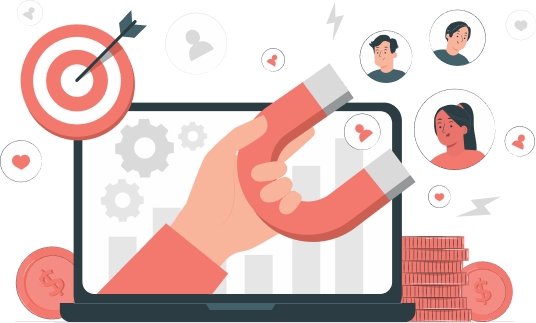 Marketing Specialist | Content Writer
Experienced in SaaS content writing, helps customers to automate time-consuming tasks and solve complex scraping cases with step-by-step tutorials and in depth-articles.
Follow me on Linkedin for more SaaS content