As a business owner, you know how exciting but also nerve-wracking it is to hear the question "Can you send me a proposal?" Sending RFP emails could mean you are one step closer to gaining new clients and making money. But it's also stressful because preparing and sending proposals manually, one email at a time takes time, and there's no guarantee it will lead to a deal.
Here's a simple solution: automate the process!
Automating your proposal process saves time and effort. It helps you respond faster and increases your chances of getting more clients by sending RFPs in bulk.
In this article, we will delve deeper into the process of automating sending requests for proposals. We will also showcase how you can automate with tools, such as Hexospark for maximum efficiency.
Benefits of sending RFP emails in bulk
1. Ability to send RFP emails to many recipients at once
Tools like Hexospark allow business owners to send RFP emails in bulk, saving precious time and effort. You don't have to send the emails one by one. Simply upload the contacts into Hexospark CRM and initiate your outreach campaign. Every contact within the campaign receives the email you send out, making communication streamlined and hassle-free.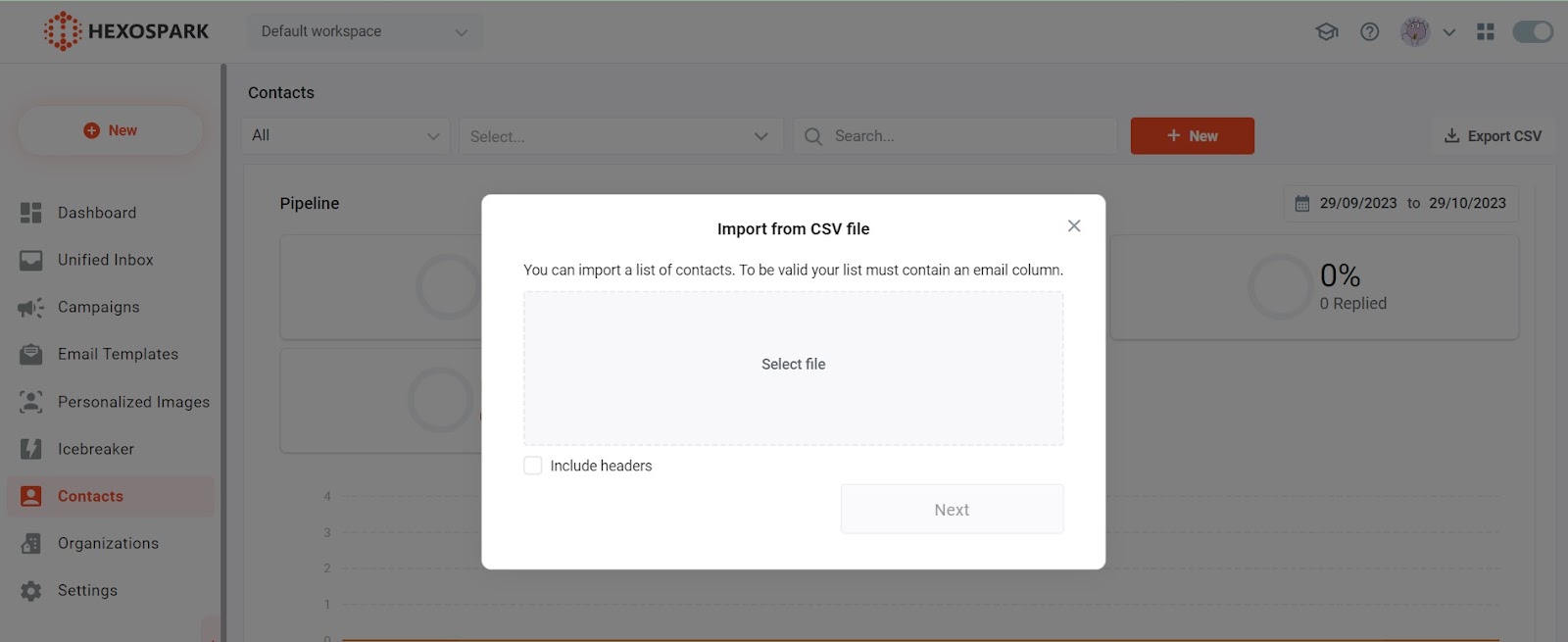 What sets Hexospark apart is its adaptability. You have the freedom to create multiple campaigns simultaneously, allowing you to organize and connect with potential leads with different interests. This functionality ensures that your messages are precisely targeted and customized for each segment.
2. Personalization to make each RFP email feel personal
Even when dealing with the formal world of Request for Proposals, personalization is key. Imagine sending out numerous RFP proposals; it's vital to make each one feel uniquely tailored to the recipient.
Platforms like Hexospark bring a high level of personalization to the process. Users can input specific details related to the potential client, such as their company name and project requirements. With these variables, every proposal sent via Hexospark is crafted to address the client directly. It's like delivering a personalized proposal to each recipient.
3. Open/Click tracking of RFP emails
Sending out an RFP email can be incredibly nerve-wracking. You're left in suspense, not knowing how the potential client will respond. Did they open your proposal? Will they answer any sooner?
The detailed tracking capabilities offered by Hexospark for RFP senders will give you peace of mind. You will know how many people opened or clicked on your content, allowing you to level up your follow-up strategy.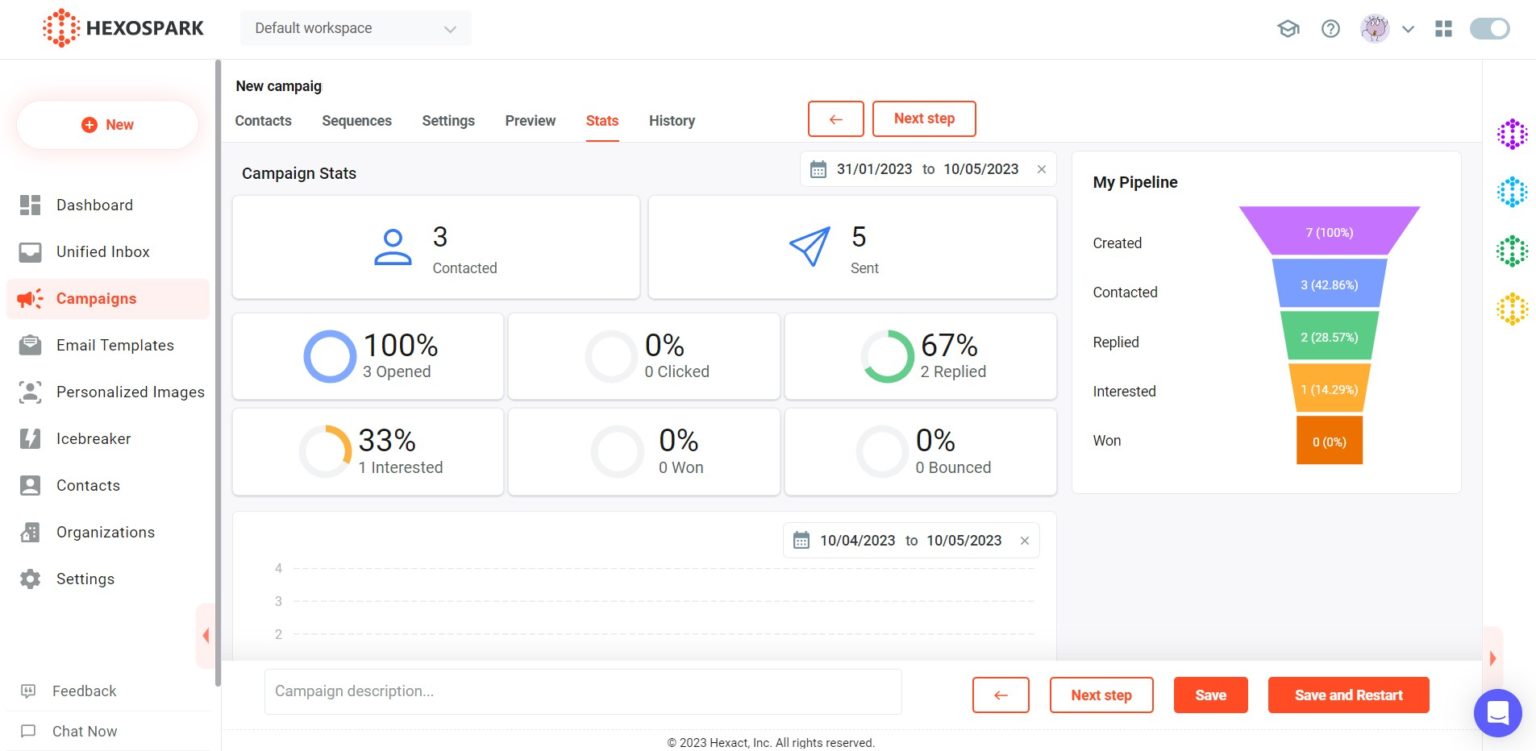 4. Automated follow-ups
Automation tools like Hexospark allow business owners to schedule and automate their follow-up emails. On Hexospark, you can add as many follow-ups as you want, ensuring that your recipient reads your RFP and reacts with an email.
Remember that a follow-up email sent at the right time can move the negotiation process forward and encourage the recipient to schedule a meeting with you.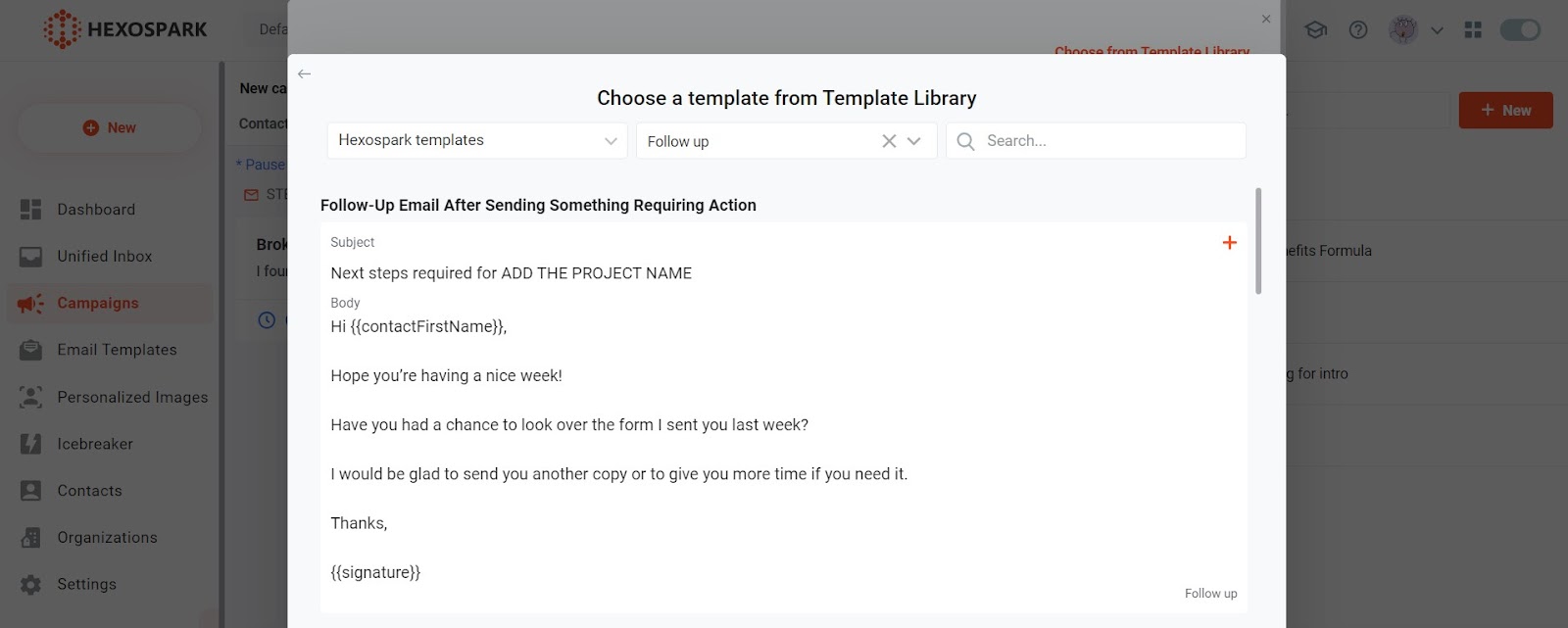 5. Built-in CRM 
Hexospark's integrated CRM system transforms how you handle RFP emails. It's a real game-changer. With this feature, you can keep track of project statuses, leads, and communications all in one place. This system ensures that every important detail is well-organized and accessible whenever you need it.
6. Ready-made templates to save time
Sitting down to create a compelling proposal demands a significant chunk of your time. You need to compile notes from client meetings, search for suitable case studies, input their contact details, design a cover image, tweak the pricing table, and more.
The surprising fact is that a considerable portion of this process can be automated, saving you from the manual hassle. When you automate your RFP process, you no longer have to start from scratch. Instead, you can begin with a ready-made proposal template. This not only saves time but also cuts down on costs for your sales team.
Email outreach platforms like Hexospark provide its users with the selection of email templates. Users can create RFP emails with templates, saving time on repetitive tasks.
Hexospark also allows easy personalization of these templates using variables. You pick the right template, and Hexospark inserts names automatically. This way, your messages are personalized without the hassle, making your communication effective and effortless.
How to automate sending RFP emails in bulk using Hexospark
For business owners looking to automate their RFP email, Hexospark offers a great solution. Here's how you can automate your RFP email campaigns effectively in just a few steps:
Step 1: Create your campaign
Begin by accessing Hexospark's dashboard and create a new campaign by clicking the "New" button.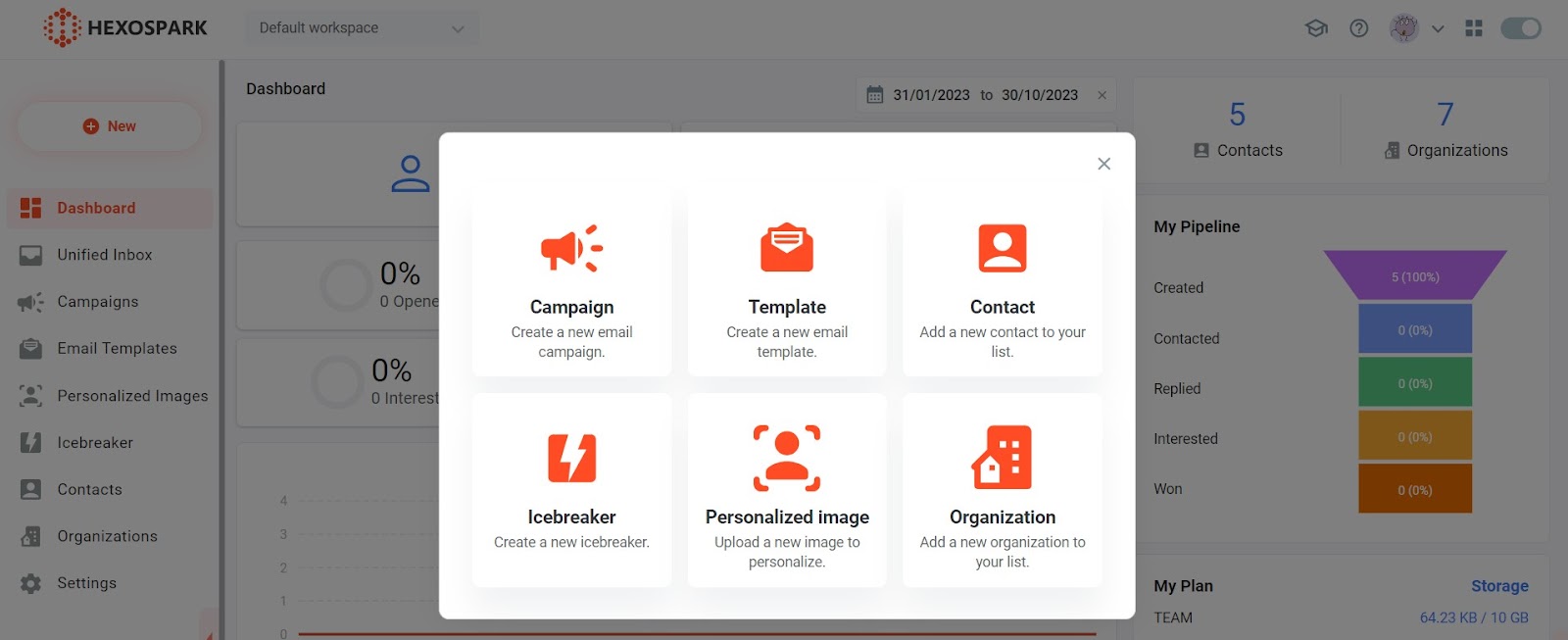 Step 2: Choose your contacts
Add the contacts you intend to reach out to. You can either import contacts saved previously or upload a new CSV file. Keep in mind, that you can add more contacts even while the campaign is active.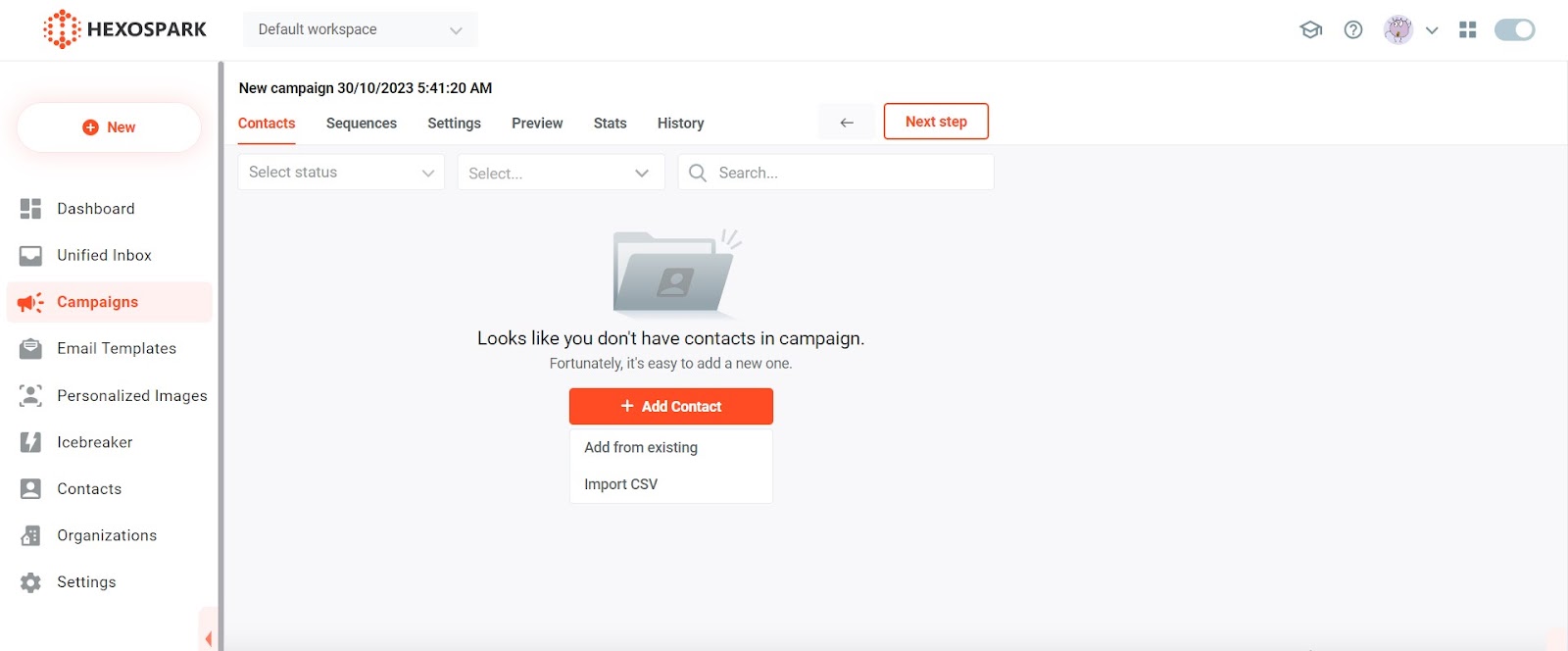 Step 3: Craft your email sequence
In the "Sequences" section, create your emails. Hexospark offers customization options, allowing you to use custom variables that pull data from your CRM, enhancing personalization.

Step 4: Configure campaign settings
Tailor your campaign settings to your preference. Specify your reference timezone, set the daily email sending window, and choose optimal days for outreach. Integrate your preferred email account – Hexospark supports various business email providers.

Step 5: Refine your RFP email
Fine-tune your email content and structure. Click on "Next Step" to preview your email and ensure everything is accurate and there are no missing details or fallbacks.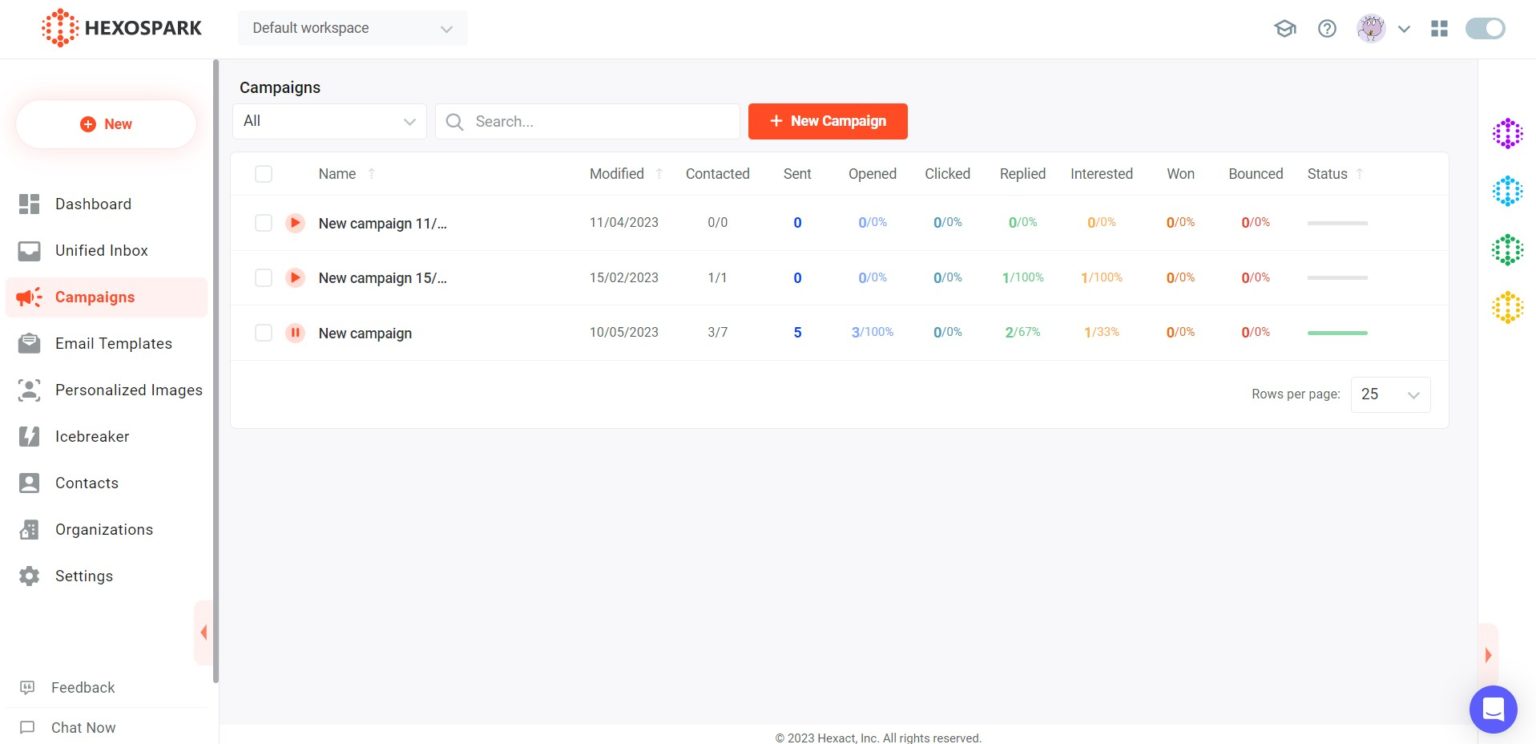 Step 6: Launch the campaign of sending RFP emails
Once you've perfected the details, save your settings and launch your campaign by clicking "Save and Run."
Step 7: Monitor results
Keep track of your campaign's performance by reviewing statistics. Check how many recipients opened the email or replied. Besides, Hexospark allows you to view and respond to all replies directly within the platform.
With these steps, automating your RFP email outreach becomes super easy and time-saving, allowing you to focus on core business activities without the hassle of manual communication management.
---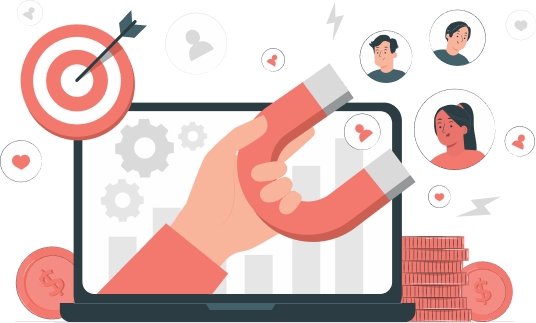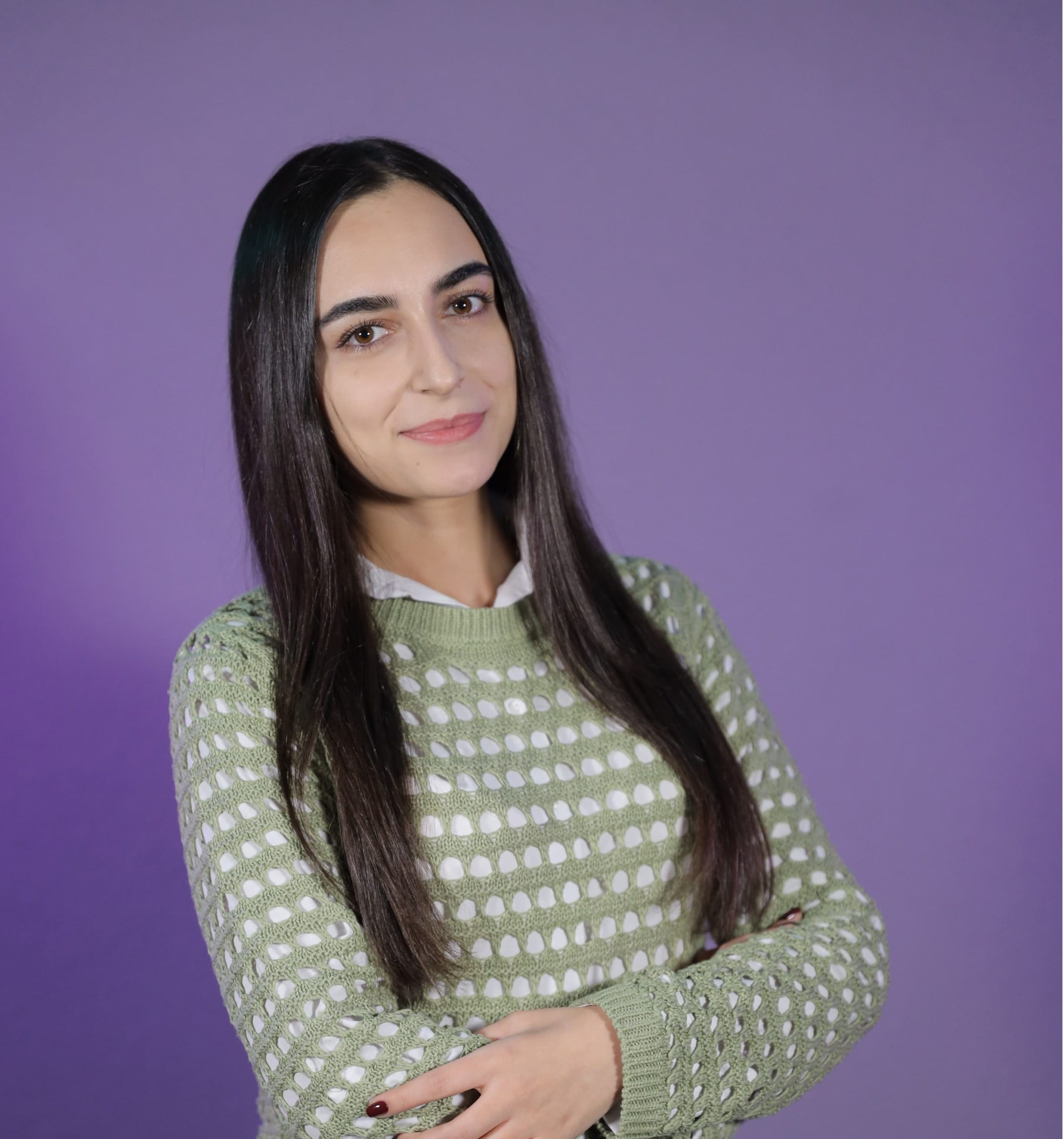 Content Writer | Marketing Specialist
Experienced in writing SaaS and marketing content, helps customers to easily perform web scrapings, automate time-consuming tasks and be informed about latest tech trends with step-by-step tutorials and insider articles.
Follow me on Linkedin