The ROI that email marketing delivers is epic.
It is calculated that for each $1, email marketing returns $35. Simply put, you spend a dollar and get $35 in return. Compared with any other form of marketing – digital or otherwise – that's an impressive return.
But, just like any other marketing medium, being able to track campaigns is key to understanding what works or doesn't work. Without this key element, you run the risk of wasting time with low-performing email marketing or outreach campaigns.
In this article, we have gathered the best email tracking tools you can use in 2023 to understand the delivery, open, and click rates of your email campaigns.
But, let's take a look at how email tracking works first.
How Does Email Tracking Work?
Email tracking software enables users to track the progress of their email campaigns. For example, it captures information about when the recipients opened the email, clicked on the links within the email, replied to the email, etc. Some apps can even tell whether the email was forwarded to another person, the exact date and the time when the email was opened, clicked, and more.
Simply put, email tracking has a myriad of benefits, including saving time, and providing valuable insights into your interactions with your leads, customers, teammates, etc.
Below, we will look through different types of email tracking tools from products that offer extensive email marketing and CRM services including tracking tools, to products that are merely specialized in email tracking.
Our top picks for email tracking software in 2023
#1 Hexospark
Website: hexospark.com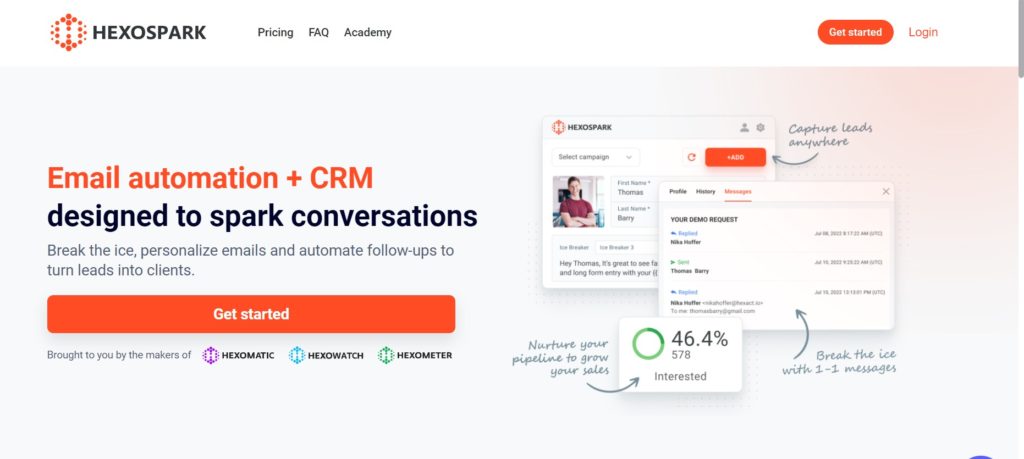 Hexospark is an all-in-one email automation and CRM platform, designed to personalize emails and automate follow-ups to turn leads into clients.
Hexospark allows its users to customize emails with lead data, write personal ice breakers, use ready-made ice breakers and email templates, tap into custom variables, and more. Hexospark browser extension for Chrome and Mozilla Firefox is ideal for finding leads on Linkedin.
The platform also enables the users to track their email campaigns, by providing insights on opened, clicked, and replied emails on both campaign and contact levels.
You can even send follow-up emails based on prospect interactions with your email, for example emailing a reply when a prospect has opened or clicked your link to find out more.
#2 Mailtrack
Website: mailtrack.io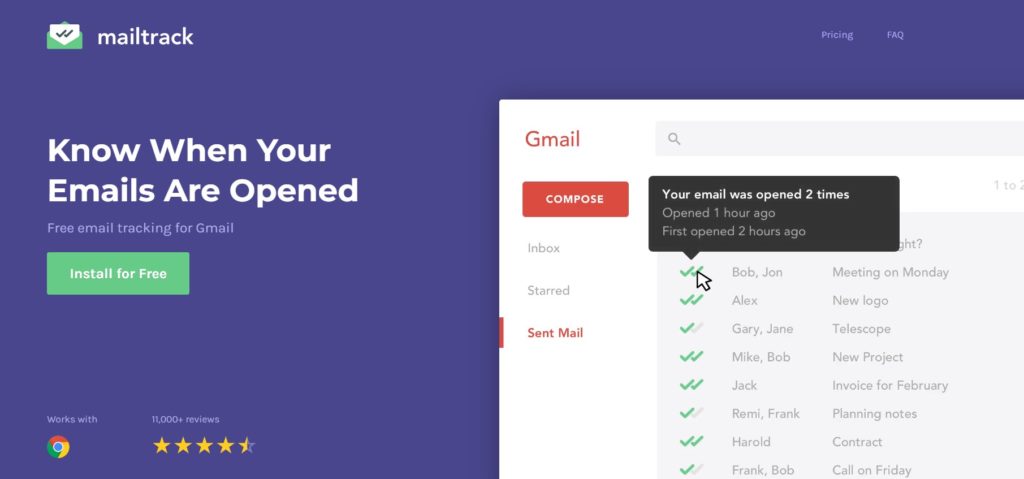 Mailtrack is one of the most efficient email tracking tools, making reading Gmail receipts easier than ever. It is quite simple to use. A double-trick mark is added to the emails informing you that the email has been read by the recipient.
The key features of Mailtrack include checking email activity and allowing you to be informed how many times your emails have been opened in your mailbox, and real-time notifications any time emails are opened.
Its free plan lets you track emails unlimited times. It's ideal for small businesses.
#3 Streak
Website: www.streak.com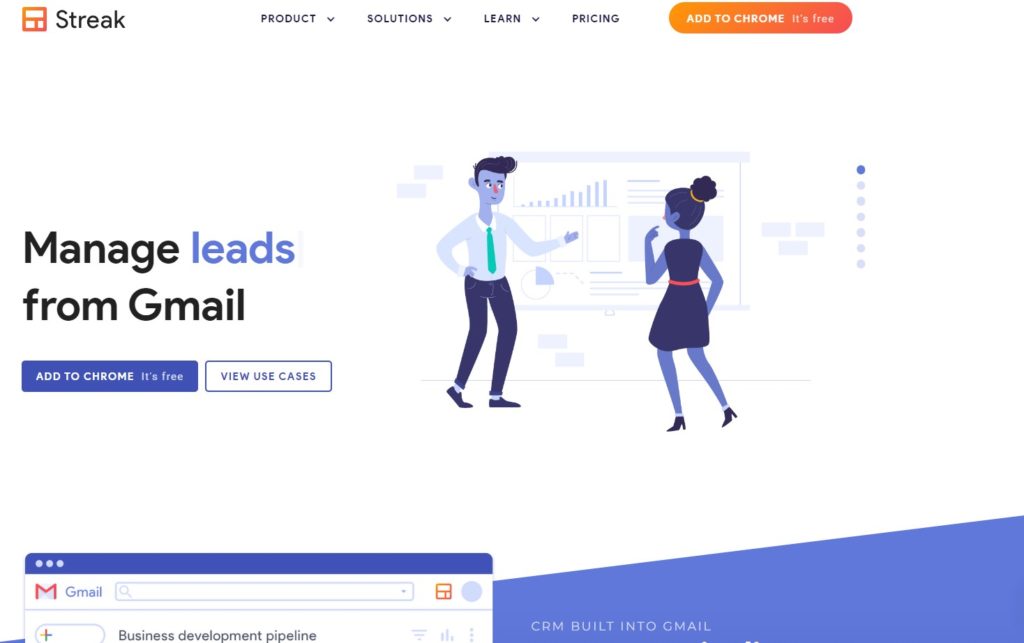 Streak is a simple email tracking tool helping to track email in Gmail super handy.
It has a free Chome extension allowing you to track email fast and efficiently, allowing you to turn it off on a per-email basis.
Its main features include email tracking for Gmail, real-time notifications, filtering, and sorting emails, link tracking, and many more.
#4 Email Analytics
Website: www.emailanalytics.com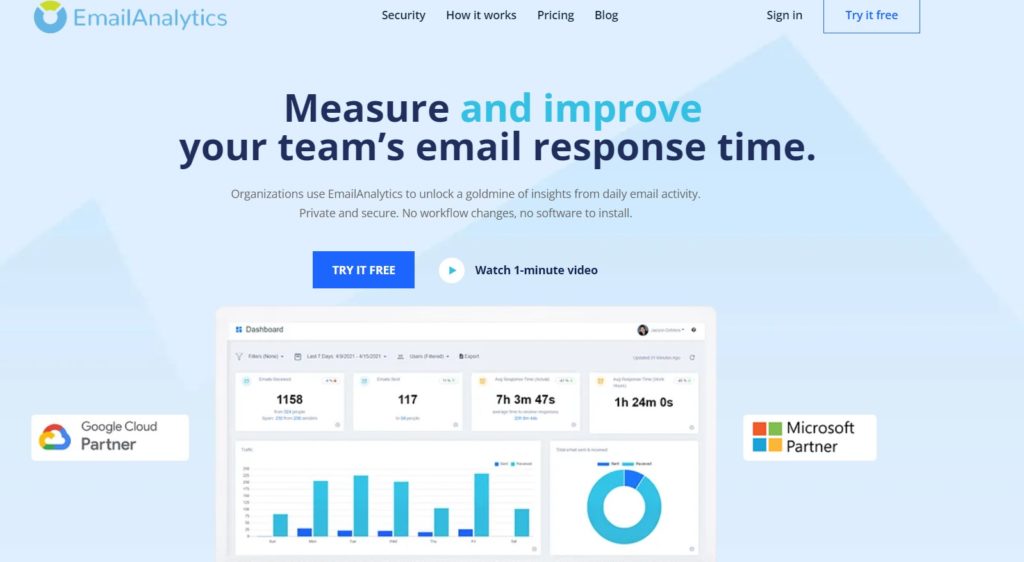 Email Analytics is a data statistics tool designed for Gmail and Google Workspace. Ideal for sales teams for tracking email quota.
The key features of the tool include email tracking featuring rate and response time metrics, in-depth reports on sent and received emails, a dashboard providing daily and hourly email traffic, and more.
#5 Lavender
Website: www.lavender.ai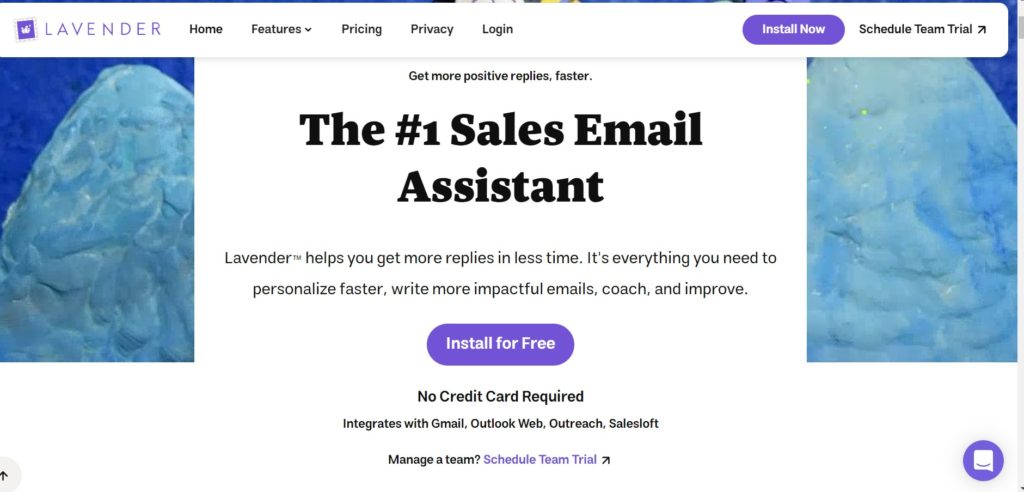 Lavender is a simple browser extension offering AI writing and inbox productivity tools.
It's ideal for businesses that search for investors, job seekers, and anyone interested in taking their email marketing to the next level.
The key features of this tool include email tracking with open and reply rate stats, tone and readability checker, insights on writing, and more.
#6 Atomic Email Tracker
Website: www.atompark.com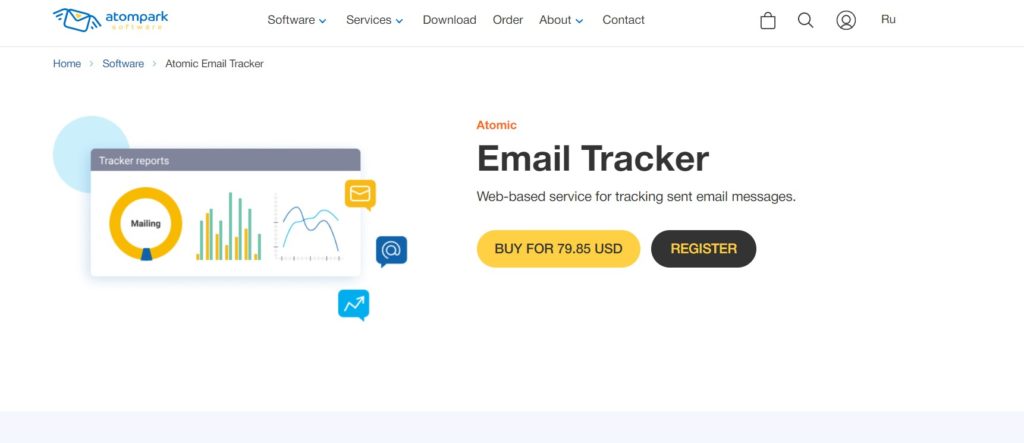 Atomic Email Tracker is an email tracking system informing you about your recipients' IP addresses and locations. You can use this tool to find out when the recipient has opened the email, from what device, whether they have clicked the links within the email, etc.
Setting up is super easy, and the results are provided instantly.
#7 NeverBounce
Website: www.neverbounce.com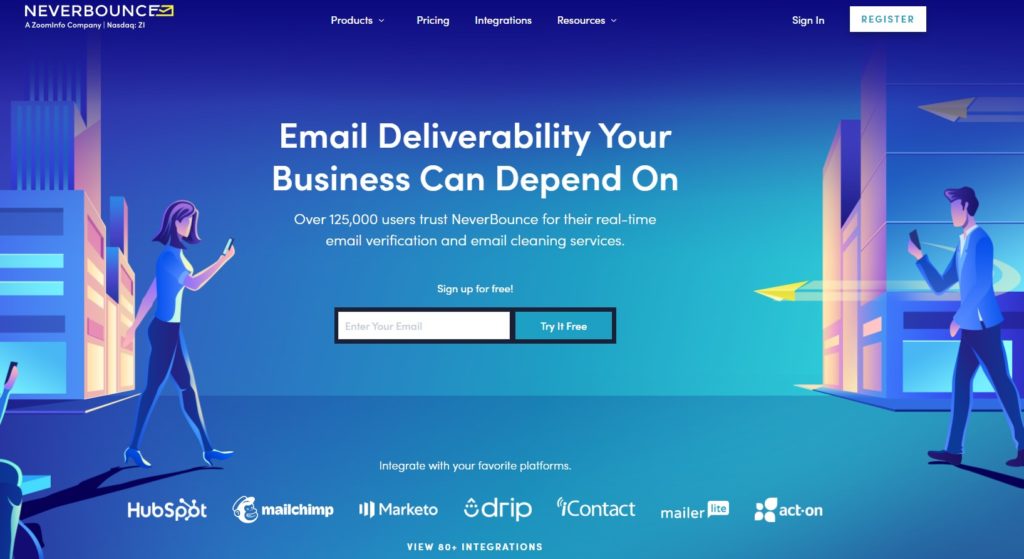 Neverbounce is a simple email verification and cleaning tool. It is ideal for enterprises.
NeverBounce not only verifies your email lists but also provides you with an email list-cleaning automation service.
#8 Mixmax
Website: www.mixmax.com

Mixmax is an email tracking system for Gmail, enabling you to get new leads, schedule meetings, etc.
Its main features include email tracking with open and click metrics, opened attachments metrics, real-time notifications, and more.
#9 RightInbox
Website: rightinbox.com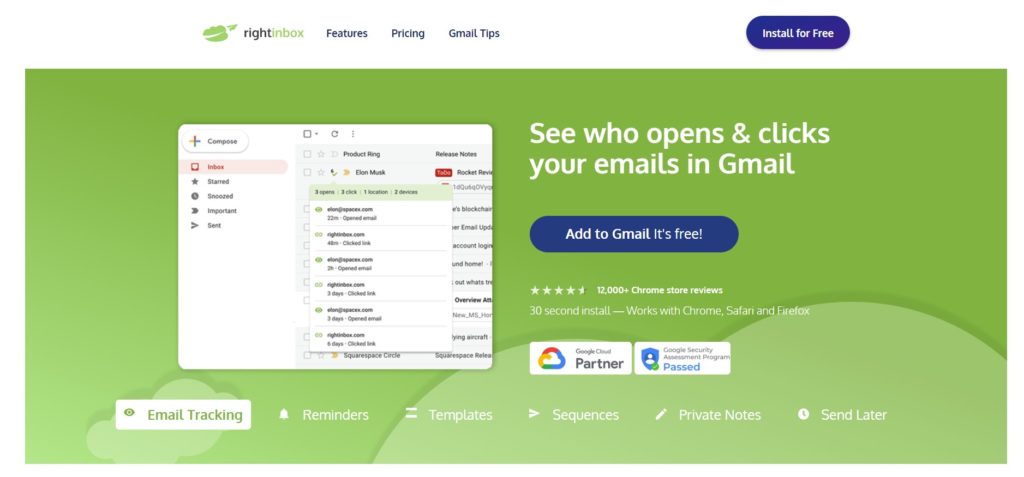 RightInbox is an easy-to-use email tracking tool. Ideal for sales, marketing recruitment, and customer support.
It includes a Chrome browser extension allowing email tracking with open and clicks metrics. It also allows you to find out who reads your emails and how many times an email has been opened and what links have been clicked.
Apart from tracking RightInbox enables you to schedule emails based on the recipient's time zone.
#10 MailTag
Website: www.mailtag.io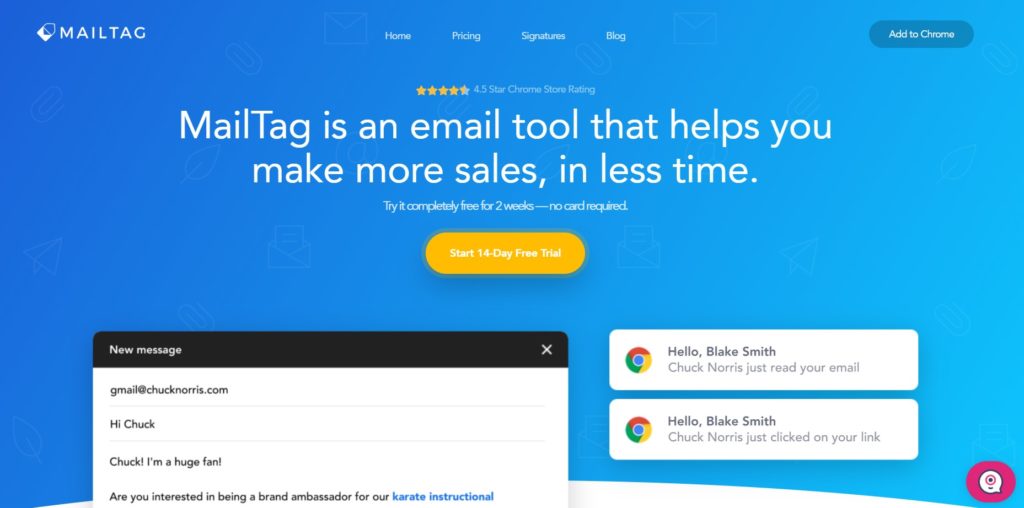 MailTag is a simple email tracking tool that helps you to know when your emails are opened, and when and which links are clicked to allow you to track your email performance.
The tool operates for the Gmail mailbox. The stats are provided with detailed reports including charts and analytics.
#11 Mailbutler
Website: www.mailbutler.io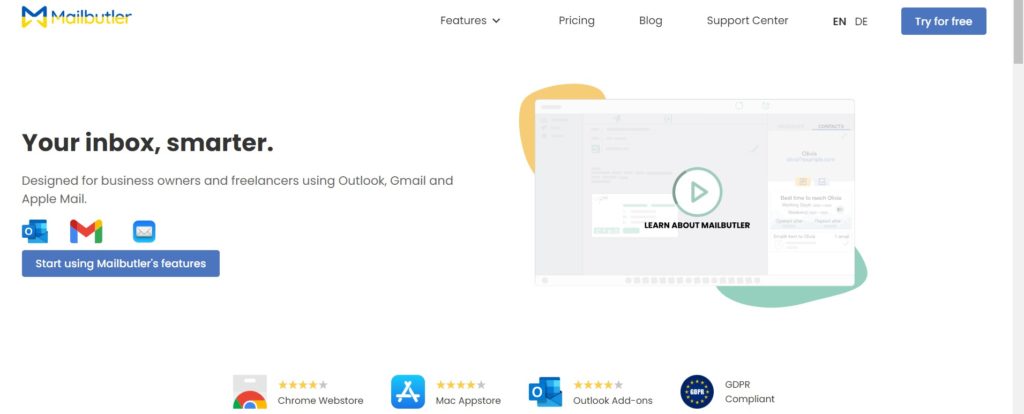 Mailbutler is an email-tracking browser extension designed for Gmail, Apple Mail, and Outlook.
Its key features include email tracking with open and reply stats, also letting you know when, where and how many times the recipients have opened the emails you sent.
In addition to email tracking, Mailbutler offers email signature creation and email template creation services.
#12 MailerPlex
Website: www.mailerplex.com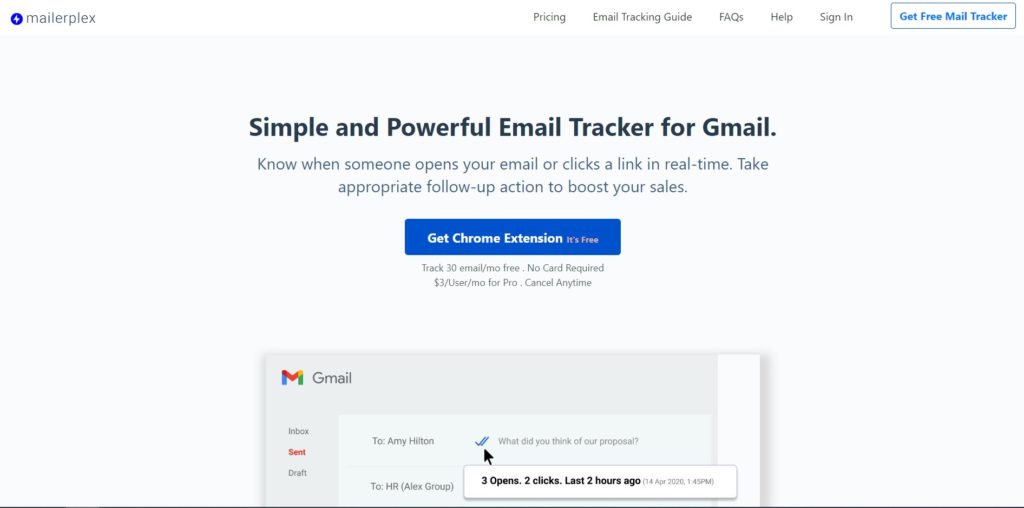 MailerPlex is an easy-to-use email tracking tool working on Gmail mailbox. The tool provides you with information about whether your emails have been opened, displaying the time your email was opened and the location of the recipient.
The tool has a free version, allowing you to check 30 emails a month.
Final Thoughts
Tracking emails is always a smart idea. However, it will be most effective with the right tool, as there is no one-size-fits-all solution.
The tools mentioned above are efficient and easy to use. But, note, that you need to consider some important aspects while choosing a tool for your business. For example, whether it fits your budget, whether your team will be able to adopt it, whether it will fit your workflow etc.
Most of the tools we presented in the article have free versions or trial options so you can make experiments until you find what works best for you and your team.
---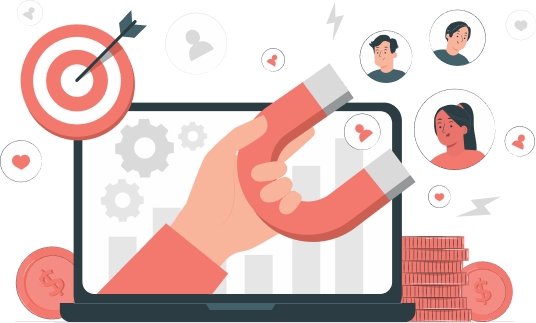 Marketing Specialist | Content Writer
Experienced in SaaS content writing, helps customers to automate time-consuming tasks and solve complex scraping cases with step-by-step tutorials and in depth-articles.
Follow me on Linkedin for more SaaS content