Cold email outreach is your secret weapon for sparking interest in potential customers who haven't yet interacted with your brand.

It's all about finding leads and crafting the perfect, personalized message to engage and captivate your target audience. By strategically tapping into the power of cold emails, you can establish valuable connections, generate leads, and ultimately, drive your business to new heights of success.

There are different strategies to find leads, from using lead databases to scouring LinkedIn as well as purchasing lead lists in bulk, also known as purchasing email lists.
In this article, we are going to cover the main pros and cons of buying email lists and the 12 best services that you can use to build your own list of leads fast.
Pros and cons of buying email lists
✅ Pros of buying email lists
🟢 Skips the research process
When you buy email lists, you skip the long process of research. Instead of collecting email lists, you start pitching your services to potential clients and customers. Most people think that email list purchase can be useful if the company aims to enter a new market. This will allow you to start the lead generation process as soon as possible.
🟢 Expands your reach
When you buy email lists, you increase the chances of expanding your reach and bringing new potential leads. Even if the number of new customers from the email list purchase is not a lot, they can refer you to their family and friends that were previously unaware of your business.
🟢 Leads to business growth
If you purchase a relevant email list with your target audience, your potential for growth will increase. Although manual email lists provide the same growth potential, buying email addresses can save you time and energy. 
❌ Cons of buying email lists
Purchasing email lists has some benefits but it is viewed as a bit of a gamble for many people. It has the potential for increasing business growth and entering new markets. But will you actually get email lists that are relevant to your business? That's what really matters.
Now let's consider the other side of the coin and find out the disadvantages of buying email lists:
🔴 Stale leads
Email lists and lead databases typically collect leads on a periodic basis, scraping the internet and updating these every year, quarter, or month depending on the service. Unfortunately, a lot can happen in weeks or days. So a potential contact working at company A, may now be working at company C…
🔴 Low-quality email addresses
Unfortunately, some email list providers get their lists through questionable means. Moreover, they sell lists that are already outdated and contain a lot of invalid email addresses. This can result in a high bounce rate, lower engagement rates, and damage to your sender's reputation. It's crucial to choose a reliable email list provider that offers a high-quality list to ensure that your email campaigns are effective and successful.
🔴 Risk of spam reports
Receiving unsolicited emails can be off-putting for many people, especially B2B professionals who may have had their contact information sold without their consent. This can make them particularly sensitive to receiving emails from unknown sources. If you choose to buy email lists, it's important to recognize the risk that you may be perceived as a spammer instead of a trustworthy business. This could negatively impact your brand reputation and make it harder to establish meaningful relationships with potential customers.
🔴 Poor response rate
When everyone is using the same email lists or leads databases, it makes it exponentially harder to get replies, as prospects will likely have received hundreds if not thousands of cold emails from other sales folks using the same lists.

When purchasing an email list, it's important to be aware of the potential for poor response rates. Unsolicited emails are often viewed with suspicion by recipients. As a result, they may be less likely to engage with the content or take any desired actions. This can lead to lower open and response rates, ultimately impacting the overall effectiveness of your email marketing campaigns. 
To help you find the service that best fits your needs, we have compared the top 12 services or tools in the market. Let's dive in and discover the main features of each service!
Top 12 services for building high-converting emailing lists
1. Hexospark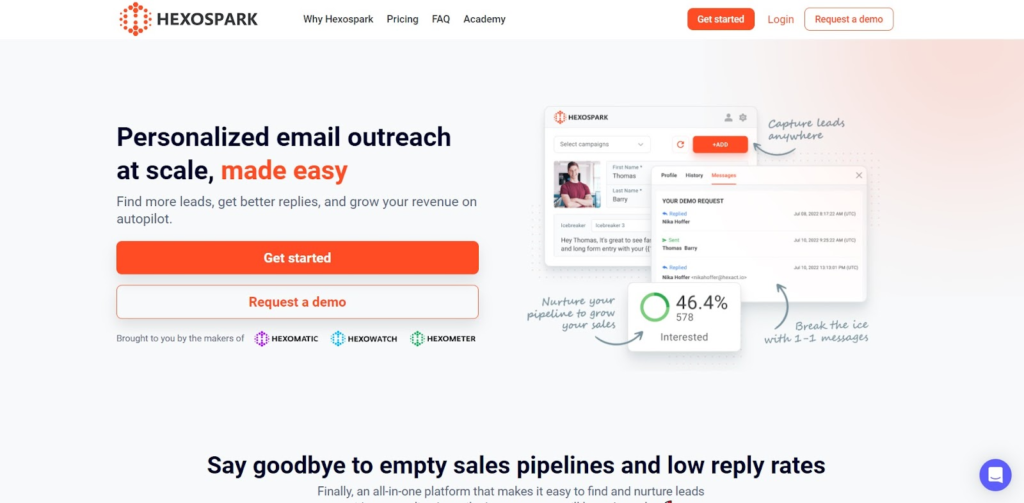 Hexospark is an email outreach and CRM platform that simplifies the process of finding leads, creating email lists, and sending hyper-personalized email campaigns. 
One of the unique advantages of Hexospark is its web browser extension, which is available for both Chrome and Mozilla Firefox. With its browser extension, you can easily find and capture leads directly from LinkedIn, the #1 source of B2B leads.
With just one click, you can capture contact details, including email addresses, directly from LinkedIn. These details are then automatically integrated into the Hexospark CRM. The latter will allow you to take your email outreach to the next level.
This feature can save you time and effort in manually collecting contact details, and help you build a high-quality email list quickly and easily. 
As a result, you will collect the most relevant email addresses in the Hexospark CRM and build email campaigns without having to leave Hexospark.
Main features:
– All-in-one CRM platform
– Capture email addresses in just one click with the Hexospark extension
– Personalized email campaigns with templates
– Ability to automate smart follow-ups
– Access to all replies via a Unified inbox
– Personal icebreakers based on fresh profile data
– 100+ email templates
– 1-Click integration with your email provider
Pricing: Plans start from $24.1. The platform offers a free trial option.
2. Hexomatic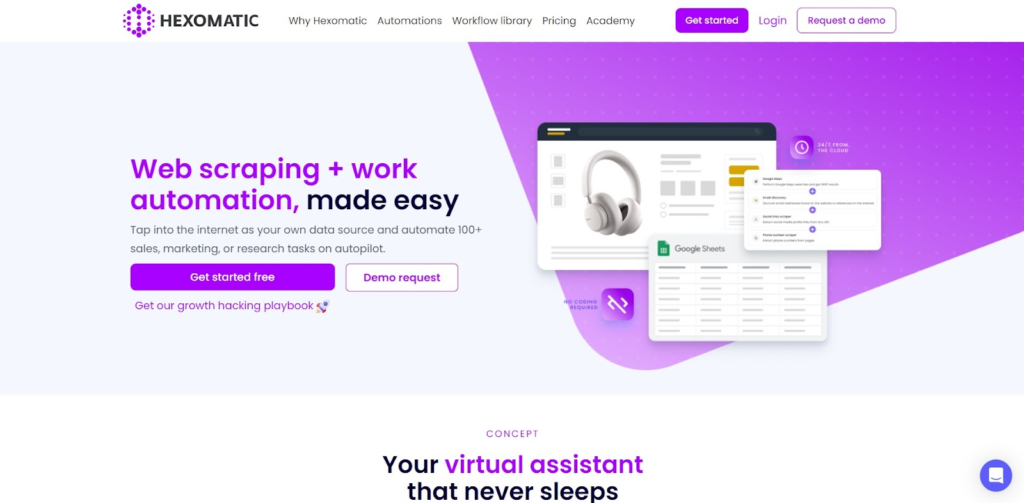 Hexomatic is an innovative web scraping and work automation platform that can help you streamline your marketing, research, and sales tasks, among others. With the platform's advanced web scraping capabilities, you can create your own fresh lead lists by scraping data from Google Maps, Google Search, and niche directories.
The platform is web-based and available on the cloud, making it easy to access and use from anywhere. Hexomatic includes two built-in automation, Email Discovery, and Emails Scraper. The latter can easily detect email addresses from any website in minutes. You can even export the scraped emails to a convenient Google Sheets or CSV file.
One of the best advantages of Hexomatic is that it lets you verify the scraped emails, ensuring that you're only targeting valid email addresses. You can do this by adding the Email Address Validation or Email Verification by EasyDmarc automation to the email finder automation.
This means that you can both scrape and verify the desired email addresses in a single workflow in just a few minutes and get an up-to-date and targeted mailing list!
Pricing: Paid plans start from $49 for a monthly subscription and $ 40.8 per month for a yearly subscription. A free trial is available.
3. UpLead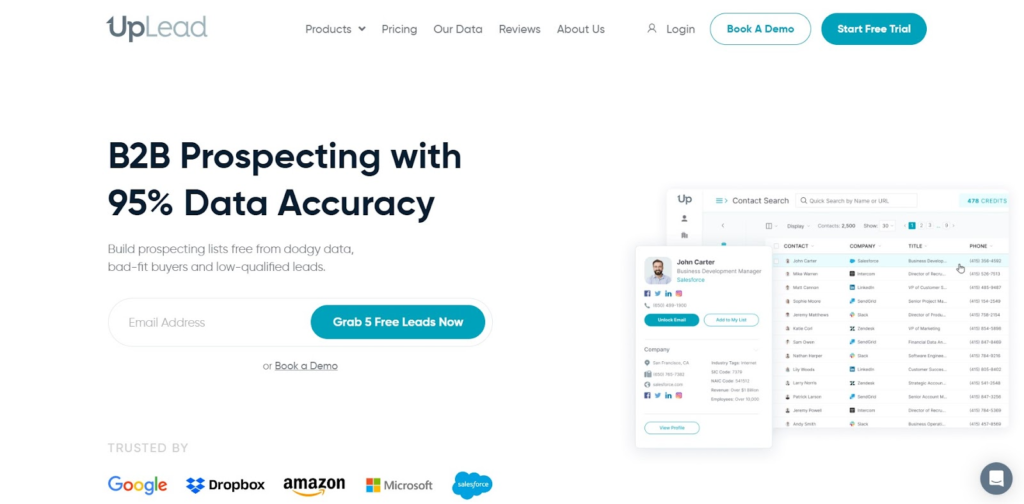 With the help of UpLead's Intent Data feature, you can generate lists of engaged leads, segment and prioritize them and approach them at the right time with the right email.
Browsing via UpLead is quite easy as it gives access to a database of over 108 million professional profiles. Moreover, it allows you to search for your target prospects using 50+ filters. Once you're done finding the leads required for the email campaign, you can download them in minutes.
In order to make sure UpLead provides you with active emails, the emails get verified in real-time before you can buy email lists.
Pricing: Paid plans at UpLead start at $99 per month. However, you also get a free trial with 5 credits.
4. Apollo.io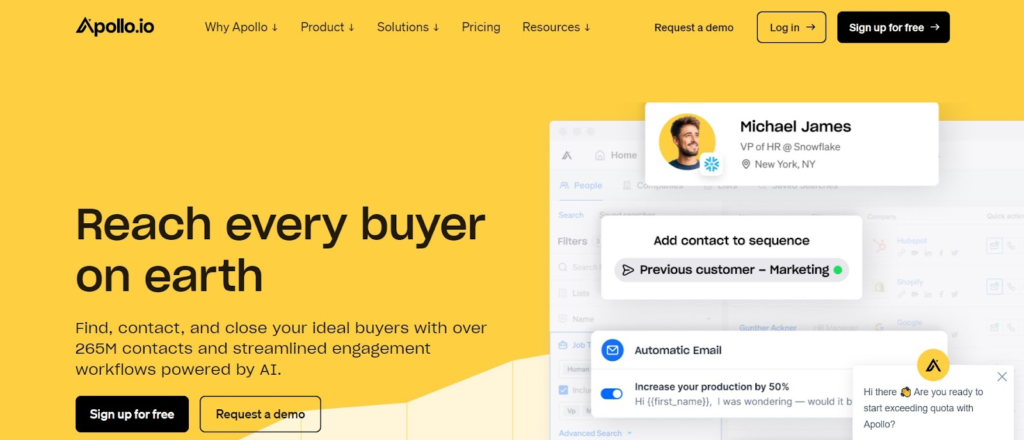 Apollo.io is a powerful database-focused tool that empowers users to search through more than 200 data points, resulting in highly targeted email lists.
In addition, Apollo.io features an advanced AI system that actively scans its vast database to identify and suggest potential leads, helping users to stay ahead of the curve in their lead generation efforts.
Pricing: Apollo.io offers a free plan with basic filters and sequence automation. The paid plans start at $49 per month.
5. Zoominfo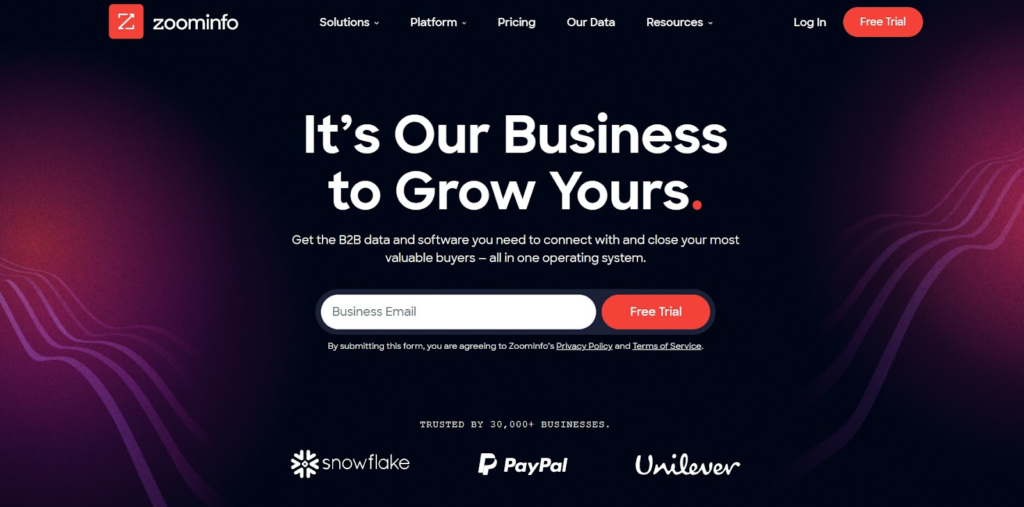 Zoominfo is another B2B database that will help you connect with your potential buyers. According to the information found on the website, it gives the buyers access to 100M+ accurate company profiles and 600M+ contact profiles.
Pricing: Zoominfo offers a free trial for its users. The cost per lead starts at around $0.85.
6. Lusha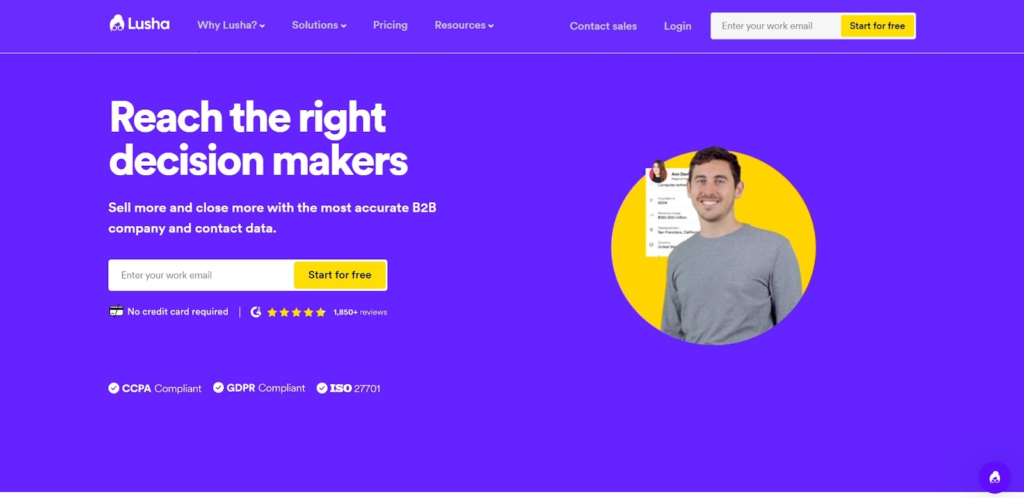 Another option for buying email lists is Lusha- a business database that includes not only emails but also personal profiles and phone numbers. It also allows you to search for personal email addresses besides professional ones.
Lusha also offers integrations with popular platforms like LinkedIn, Twitter, and Salesforce and an API for integration with other tools.
The main disadvantage of this tool is that its data isn't guaranteed.
Pricing: Lusha offers its users a free account with up to 5 searches per month. Its subscription plans start at $99.
7. Hunter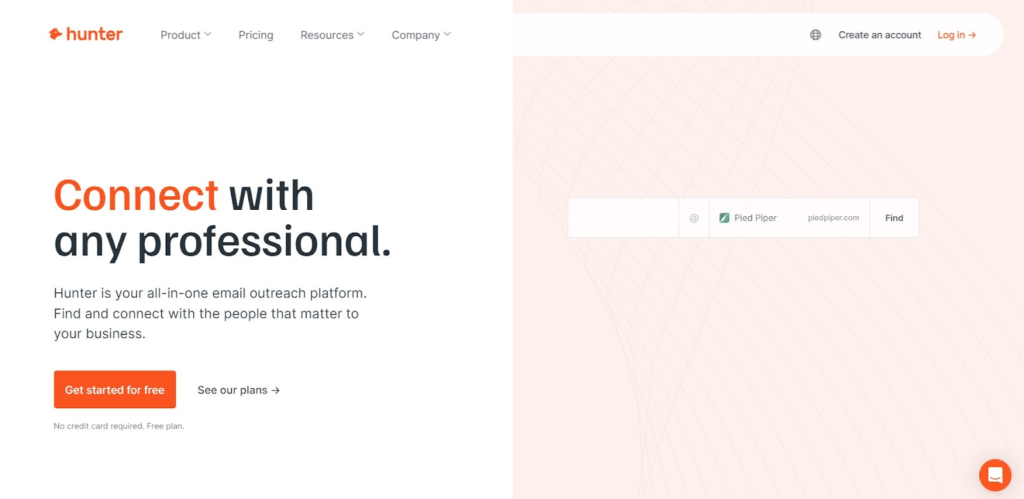 Hunter is a platform that allows its users to buy email lists based on your provided data: the prospects' name and company.
The platform also provides bulk data enrichment and email verification services to enhance deliverability rates and improve users' overall experience.
While Hunter may not offer unique features, it provides users with common and expected features. To take full advantage of Hunter's capabilities, pairing it with other lead generation tools can amplify its effectiveness and streamline the lead generation process.
Pricing: Hunter's pricing begins at $49 per month, which includes 500 monthly searches and 1,000 verifications.
8. D7 lead finder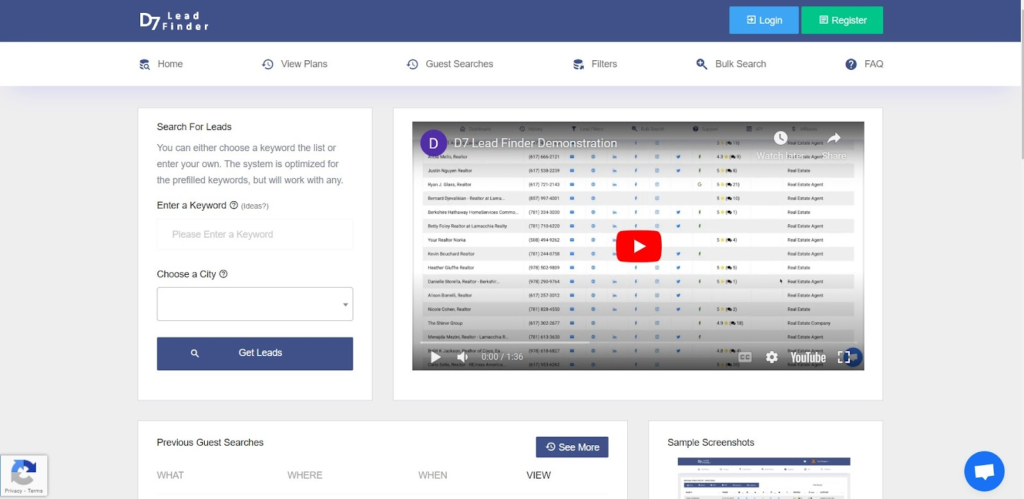 This lead generation tool allows its users to easily search and purchase emails. D7 Lead Finder boasts of having over 65 million profiles. However, it's worth noticing that the platform includes some grammar mistakes. The latter may not be ideal for users looking for English-speaking leads.
Also, this platform doesn't provide email verification, which is important for getting active email lists, and offers only minimal functionality with no tool integrations or other crucial features.
Pricing: Their starter plan starts at $34.99. The professional plan starts at $119.99.
9. Skrapp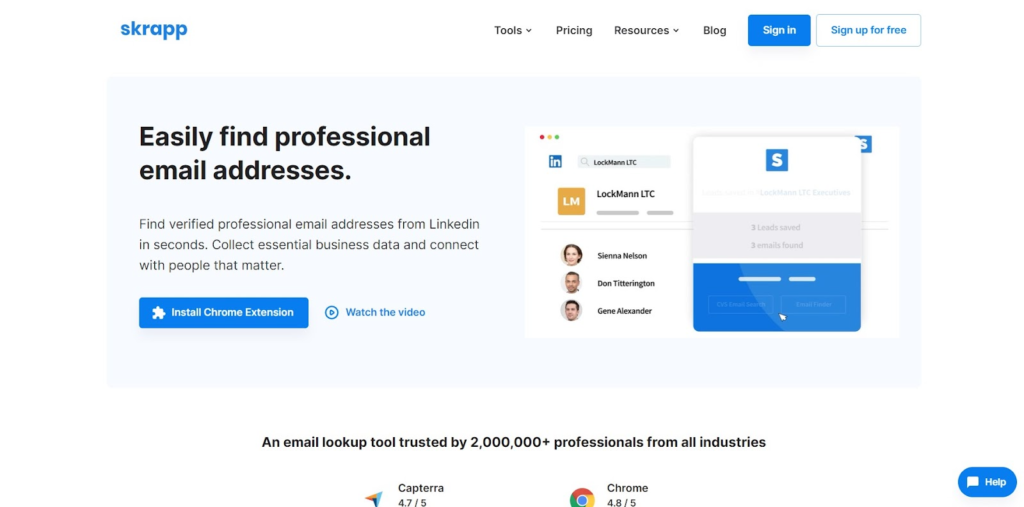 Skrapp is a versatile business database that enables users to extract emails or purchase email lists.
With a powerful Chrome extension, Skrapp makes it easy to generate emails from LinkedIn profiles and add them to your existing email lists. You can find emails in bulk and launch your email outreach campaign instantly.
Pricing: Skrapp offers plans starting at $49 per month.
10. VoilaNorbert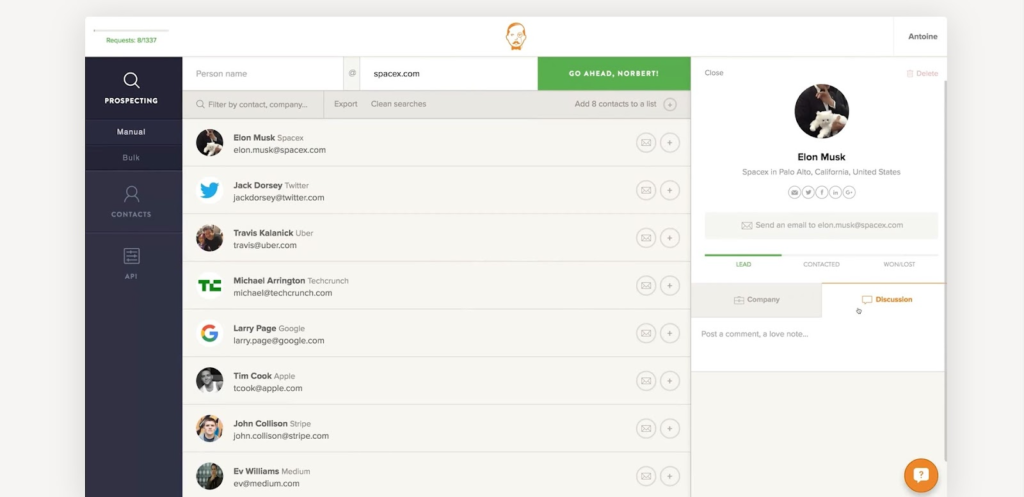 VoilaNorbert is another tool similar to Clearout as it allows you to collect professional email addresses by using your prospect's first and last names, and domains. The great thing about this tool is that it instantly verifies emails for more accurate results.
Pricing: VoilaNorbert has a free trial with limited options. The subscription plans start from $49.
11. Overloop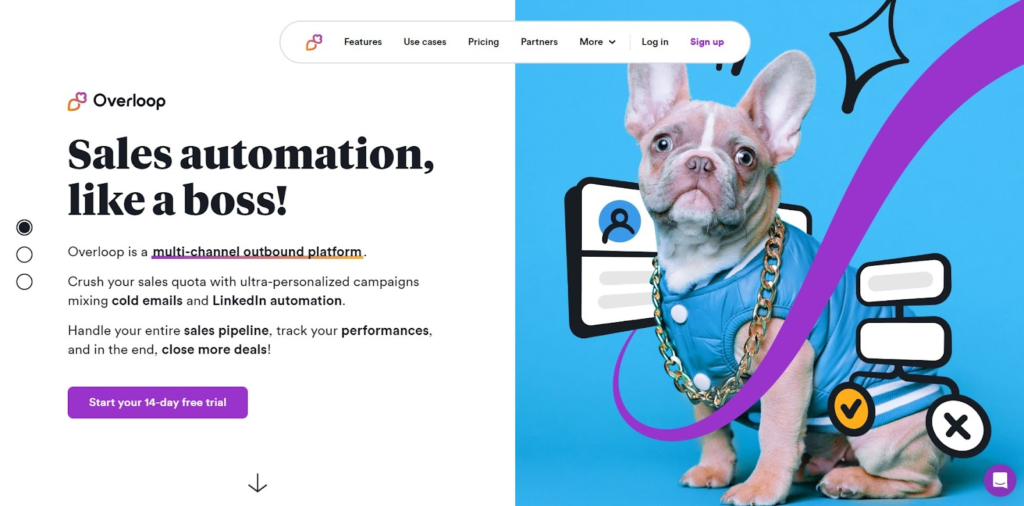 Overloop is another great platform for creating email lists. It allows you to scrape emails that are publicly available. All you have to do is search for the email by prospect's name and domain, then you'll get the results.
The platform also allows you to export the final results in Google Sheets, or download them as CSV.
Similar to Hexospark, Overloop has an extension that allows you to capture emails from LinkedIn and create your email list based on the captured data.
Pricing: The subscription plans for Overloop start from $99. However, it does have a 14-day free trial.
12. Clearout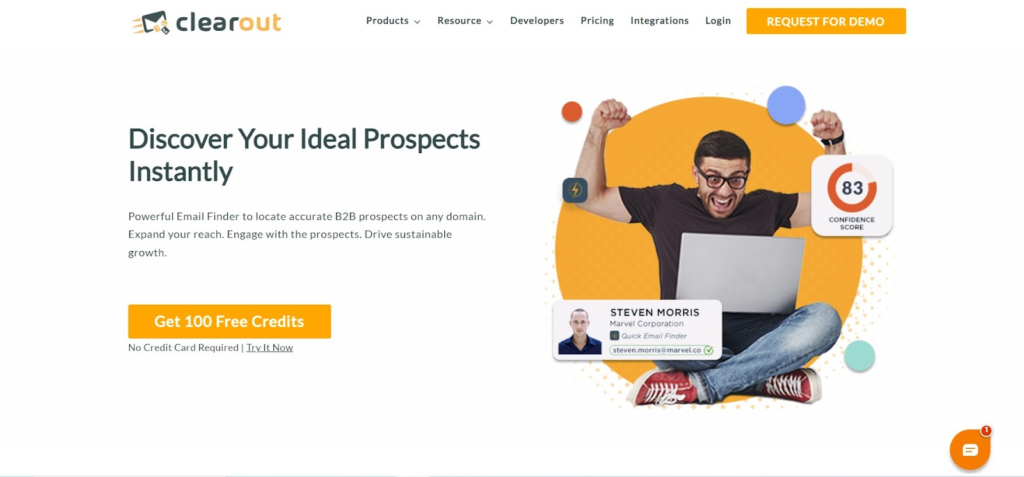 This platform is a great chance for you to collect emails in bulk and generate pre-verified leads for higher conversions. All you have to do is upload a list of prospects with their names and company/domain and the tool with locate email addresses with accuracy.
The main disadvantage of this tool is that you need to have a list of names in order to search for their email addresses. If you want to save more time, you can use the Hexospark extension to get all the details of your future prospects, including their names, email addresses, phone numbers, etc. in just one click.
Pricing: The subscription plans for their tools start from $21.
Why is finding your own leads more effective than buying email lists or using leads databases?
⚡ Fresh leads
By building your email lists through data scraping, you're getting the freshest data and have complete control over the quality and relevance of leads. However, with business databases, you are restricted to the data present in their database, which may be outdated or inaccurate. Data extraction from websites and other sources ensures that you acquire the most precise and relevant information tailored to your specific needs.
⚡ Unlimited number of sources
Scraping can be a more scalable solution for businesses that are looking to grow their email list over time. With data extraction, you can extract data from a virtually unlimited number of websites and sources, allowing you to continually add new fresh leads to your email list. Business databases, on the other hand, are limited to the data that is available in their database, which may not be sufficient for businesses that are looking to scale their email list quickly.
⚡ Increased lead quality
One of the advantages of creating your own custom lead lists through data extraction is that you can potentially target leads that are less saturated by other marketers. When using business databases, leads are often shared among multiple companies, which can result in oversaturation and reduced effectiveness. By extracting data from websites and other sources, you have the opportunity to identify and target leads that may not be readily available through business databases, increasing the likelihood of success in your marketing efforts.
⚡ Cost-effective option
Email scraping can also be more cost-effective in the long run. While business databases may seem like a convenient solution, they often come with a hefty price tag. With data extraction, you can extract data from websites and other sources at a much lower cost than buying leads from a business database.
To sum up
As you can see, buying email lists is not always a good idea. Rather than relying on purchased email lists, it's recommended that you invest in building your own list over time through targeted lead-generation strategies. This will ensure that your emails are reaching individuals who are genuinely interested in your brand.
When you buy email lists, you are never sure that you will get quality email addresses that will help you get more leads and grow your business.
Instead of purchasing email lists from databases, it's always better to build your own with your targeted audience using scraping tools, such as Hexospark, Hexomatic, etc. They will help you to save precious time, but, at the same time, get highly converting email addresses.
---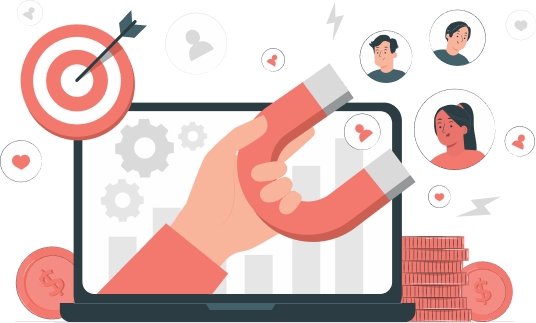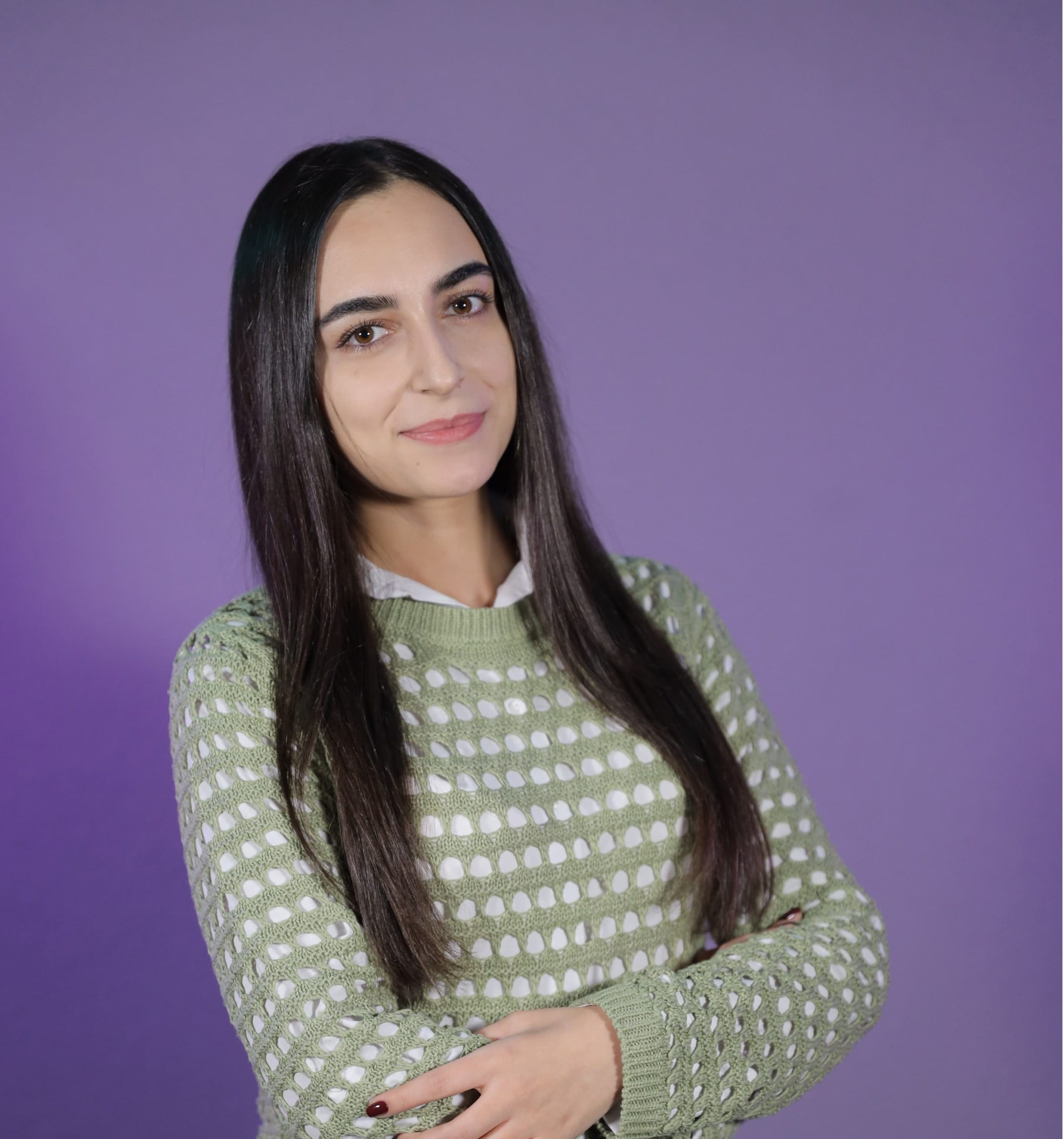 Content Writer | Marketing Specialist
Experienced in writing SaaS and marketing content, helps customers to easily perform web scrapings, automate time-consuming tasks and be informed about latest tech trends with step-by-step tutorials and insider articles.
Follow me on Linkedin