Lead generation is an essential activity for growing business. Companies put a lot of effort into turning more prospects into leads.
In fact, if your potential customers are not prepared to purchase your offering, it will be hard to make sales.
Leads are customers who have an interest in your product and are looking to buy. These valuable leads can help businesses improve their sales and returns.
The introduction of modern marketing tools, software, and social media platforms has enabled marketers to achieve greater levels of success in acquiring high-quality leads. It is crucial to determine which leads are of high quality and ready for conversion.
In this guide, we're going to run through lead generation in more detail and close with an overview of how to launch your own lead generation campaign and how to solve common challenges.
Lead Generation: What It Is and Who Needs It Most
Let's begin by understanding the definition of lead generation. 
Lead generation can be defined as the process of enticing prospects and converting them into individuals with a vested interest in your business's offerings. Modern companies utilize an array of lead-generation approaches, like email marketing, social media marketing, blogging, event marketing, and more.
Most businesses perform A/B testing of these strategies and then stick to the ones that work best for them. 
The reason is that the lead generation strategies differ from one industry to another.
For example, social media marketing can be more effective for an eCommerce business than for a SaaS company, etc.
The lead generation process is quite simple: it starts with the visitor clicking the CTA in your email that takes them to the targeted web page where they accept your offer and become your lead. 
You may wonder which business types need lead generation more.
Well, Both B2C and B2B organizations require generating leads to recognize potential customers and turn them into buyers. Lead generation for B2B provides businesses the opportunity to focus on smaller audiences and take care of extended sales processes.
 On the other hand, lead generation for B2C helps build customer trust and form emotional ties.
The Process of Lead Generation: How to Launch a Campaign
Launching a lead generation campaign is a comprehensive process including the determination of the objectives, the target audience, channels, etc.
Let's walk through the main steps of launching a successful lead generation campaign below. 
1. Setting the Objectives
So, before creating any lead generation tactics, it is essential to decide what you hope your lead generation plan will accomplish.
What are the organization's primary goals, and how can your lead-generation efforts contribute to those objectives?
Successful lead generation requires all departments of a business to collaborate and coordinate. To ensure the best results, it is essential to establish a method for assessing success and return on investment, as well as incentives to motivate departments. Specifically, the marketing, customer service, and sales departments need to connect closer than ever.
2. Defining the Target Audience
Once your objectives are clear, it's important to have a clear vision of your product's unique selling points and proposition.
In addition, you should develop a clear buyer persona profile in order to understand your target audience better.
While creating your buyer persona profile, be sure to consider factors such as the locations, values, goals, the media channels they use, and more.
3. Planning And Setting Marketing Channels
So, after putting all the necessary lead-generation elements together, you can use your various promotional channels to drive traffic to your landing page to start lead generation for business.
A crucial step in realizing your lead generation strategy is understanding which marketing channels to use and how to use them. 
In some way or another, almost all marketing channels can be used to generate leads.
It really depends on your lead generation objectives and whether they are right for your lead generation campaign. 
Let's have a closer view of each of the most popular and effective channels.
📩 Email
Many lead generation strategies rely on email. 
Every stage of a sales funnel can benefit from relationship-building communications via email.
Email is ideal for direct marketing. 
The main problem with using email for lead generation is that you need to have a short list of emails of your potential leads to be able to connect them.
 The good news is that you can use online email scrapers to get your desired emails in minutes without having to spend tons of time on research and copy-pasting.
👥  Social Media
Lead ads on platforms like Facebook are an effective way of gathering information from people who view your ad, allowing you to expand your reach to a broader audience. If you are not ready to spend on paid ads, you can promote your offers via your social media postings.
One of the most popular lead generation platforms is Linkedin. It is ideal for B2B lead generation as you can easily find there most of the appropriate people from any organization and connect with them directly. To make your Linkedin outreach faster and easier, you can use Hexospark browser extension that can automatically capture the leads' contact details and add them to your CRM also allowing you to select the appropriate icebreakers to start winning conversations. 
📝 Blogs
Producing high-quality blog content that shows you understand your customer, their difficulties, and requirements, and have a solution to help them is part of an effective lead generation campaign.
You can share the content on your business's blog and share it over your social media channels. The content can include tutorials and insider guides helping your audience to figure out how your product/service can be helpful for them, as well as a wide range of informative articles related to your field. 
📅 Events
Events, whether they are virtual webinars, summits or in-person conferences, etc are an ideal way to connect to more people and increase your chances to generate more interested leads. 
Moreover, according to studies, 68% of B2B marketers admit that virtual events help them generate quality leads.
In order to have a successful lead generation campaign, crafting a comprehensive event marketing strategy is essential. 
Why Lead Generation Marketing Is a Must-Use
If your business is not doing lead generation marketing now, you have been missing out on a big chunk of revenue. 
Well, it's simple.
All businesses need customers to grow. And to get those customers, they need to market to potential customers first and gain their attention.
This is where the lead generation marketing strategy comes into play.
However, many companies, pursuing faster results prefer applying to lead generation services and buying leads to using marketing to generate the leads. 
Yes, performing lead generation marketing yourself is a tough task but in the end, it can assure you have quality convertible leads.
As opposed to buying leads turns out to be faster and far easier, yet much more expensive.
Moreover, these are not guaranteed leads, and the messages you will be sending them may be undesired, and there is an extremely high possibility that they will mark your email as spam.
So, why pay tons of money pay for not guaranteed leads when you can spend a little bit more effort to get the qualified leads yourself? 
Final Words
There we are. The basic aspects of lead generation we covered in this article are just the start. There is a ton more we are going to cover next to help you generate more leads and close more leads.
Last but not least, keep in mind that by creating personalized lead generation strategies promoting these across multiple channels, you can ensure that you are supplying your sales team with high-quality leads. It is essential to continually test and refine your lead generation campaigns in order to boost lead quality and revenue.
---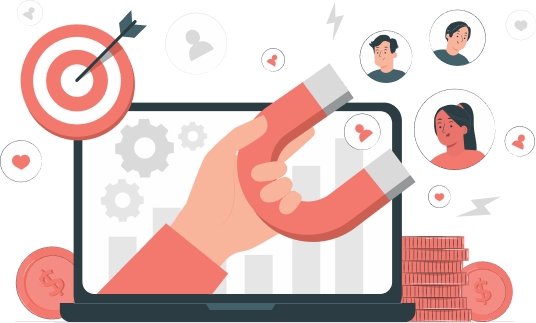 Marketing Specialist | Content Writer
Experienced in SaaS content writing, helps customers to automate time-consuming tasks and solve complex scraping cases with step-by-step tutorials and in depth-articles.
Follow me on Linkedin for more SaaS content