Email outreach can be an ideal way for growing your business and income.
But how can you find your prospects' email addresses without spending too much time, money, and effort?
No need to panic. This article will help you to accomplish that with ease.
If you are dealing with email outreach, then you may know that getting people's attention is not an easy job. It is to be expected that only 8.5% of email outreach messages are answered.
So, sending the email to the right person is essential for getting the desired response. Hence, before launching your email campaigns, it's important to find the right email addresses of your prospects and double-check that they are valid and accurate.
Now, let's explore the best email-hunting options.
5 Easy Ways to Find Someone's Email Address
Below, you will find 5 super-easy ways to find anyone's personal email and not only in a few minutes.
#1 How To Use Hexospark Browser Extension & Linkedin To Find Email Addresses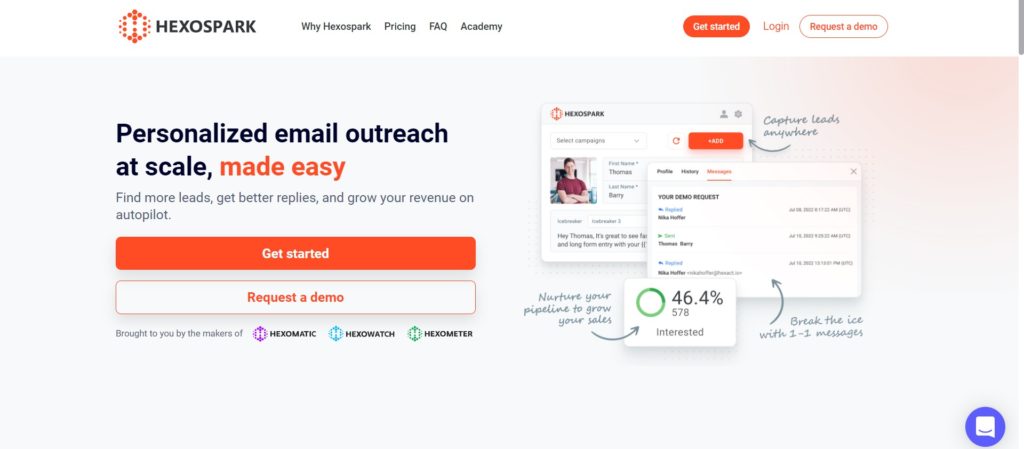 The Hexospark browser extension makes it easy to get leads from LinkedIn with just one click, directly into your Hexospark CRM and campaigns.
You can currently find the extension in the Chrome or Firefox browser extension stores and it takes a few seconds to install.
After installing the extension, you need to simply open it on the desired individual or company page on Linkedin and it will capture the data available on the profile, including name, email, position, activity, experience, education, skills, volunteering, licenses, certifications, and more.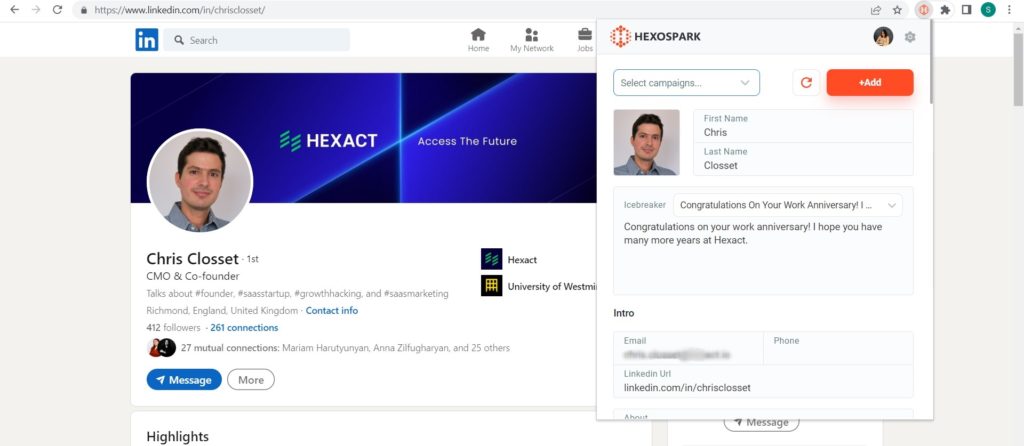 You can then assign your prospect to an existing email campaign personalizing and automating emails as well as follow-ups using your Hexospark CRM data.
As you can see, it takes literally a few minutes to capture the email and not only from the desired Linkedin page using the Hexospark browser extension.
You can find more detailed instructions on how to use the Hexospark browser extension 👉 here.
#2 How To Use Hexomatic Discover Email Automation To Find Email Addresses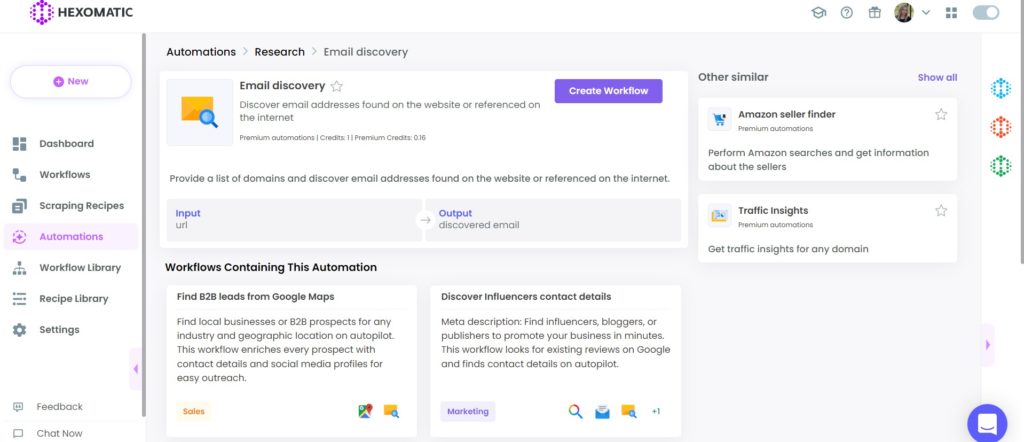 You can use another fast and straightforward way of finding emails from any website using Hexomatic, a no-code web scraping and automation platform that allows you to automate 100+ sales, marketing, and research tasks at scale.
Hexomatic provides a convenient Email Discovery automation tool that can capture and scrape emails from any website in a few clicks.
This is how you can use it.
To get started, you need to have a hexomatic.com account.
Then, you need to:
1. Create a workflow.
2. Add the desired website URLs.
3. Add the Email Discovery automation to it.
4. Then simply run the workflow and wait for the results.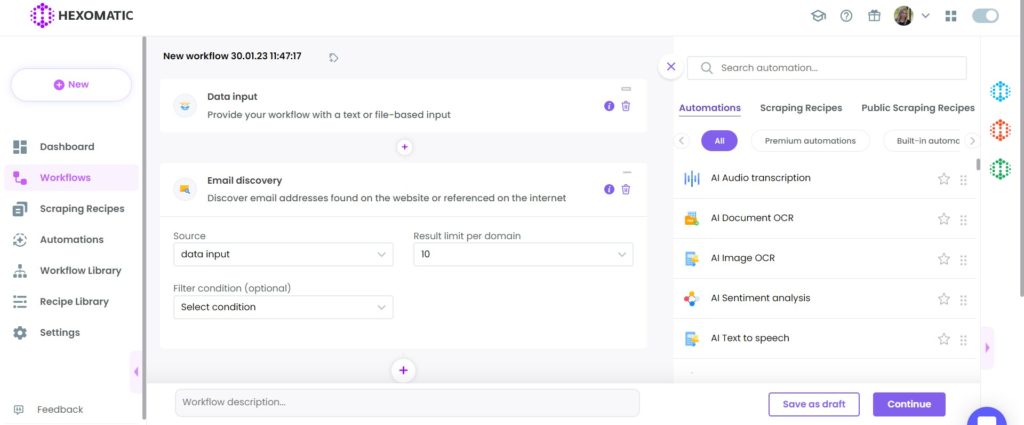 It may require a few minutes to generate the results, depending on how many website URLs you've included.
As a result, you will have structured data in a convenient spreadsheet format.
For a comprehensive guide with each step outlined in detail, here is a tutorial that can help.
#3 How To Use Hexomatic Email Scraping Automation To Find Email Addresses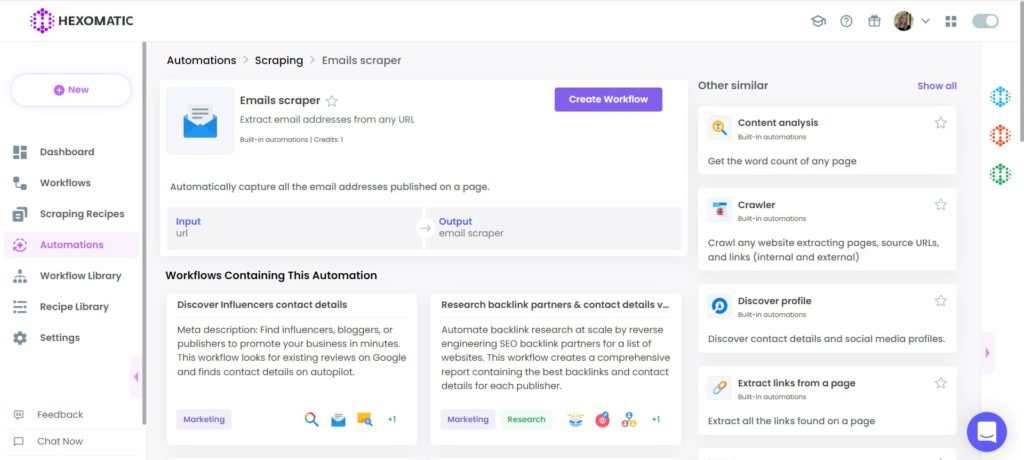 Hexomatic also offers another email-finding automation that can automatically scrape email addresses found on a web page.
This is ideal if you have a list of web pages and need to extract emails from them. Instead of navigating to each page, finding and copy-pasting emails, you can add the targeted page URLs in Hexomatic, and it will return to you all the email addresses found on the pages.
The logic of this automation is the same as for the Email Discovery.
1. Create a hexomatic.com account if you don't have one yet.
2. Insert the web page URLs.
3. Add the Emails Scraper automation to the workflow.
4. Run it.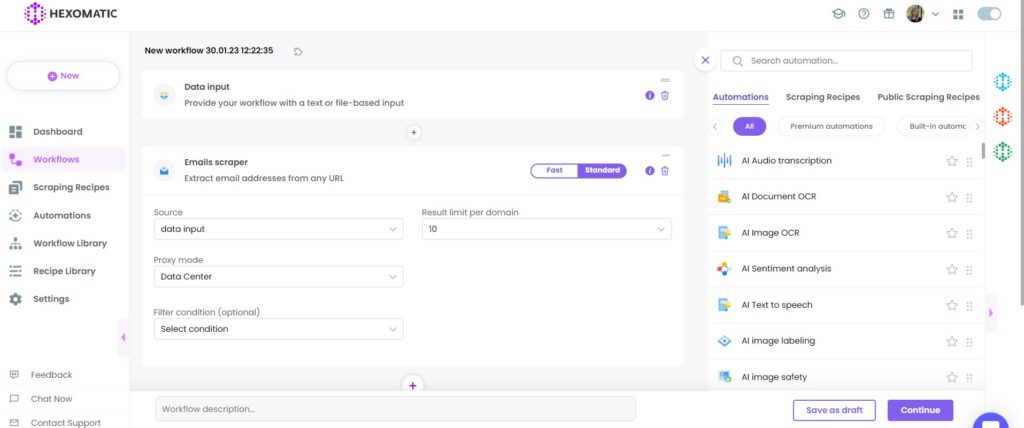 Simple and fast.
As a result, you can have structured data scraped in a spreadsheet format.

For a comprehensive guide with each step outlined in detail, here is a tutorial that can help.
#4 How To Use Google Advanced Search Operators To Find Email Addresses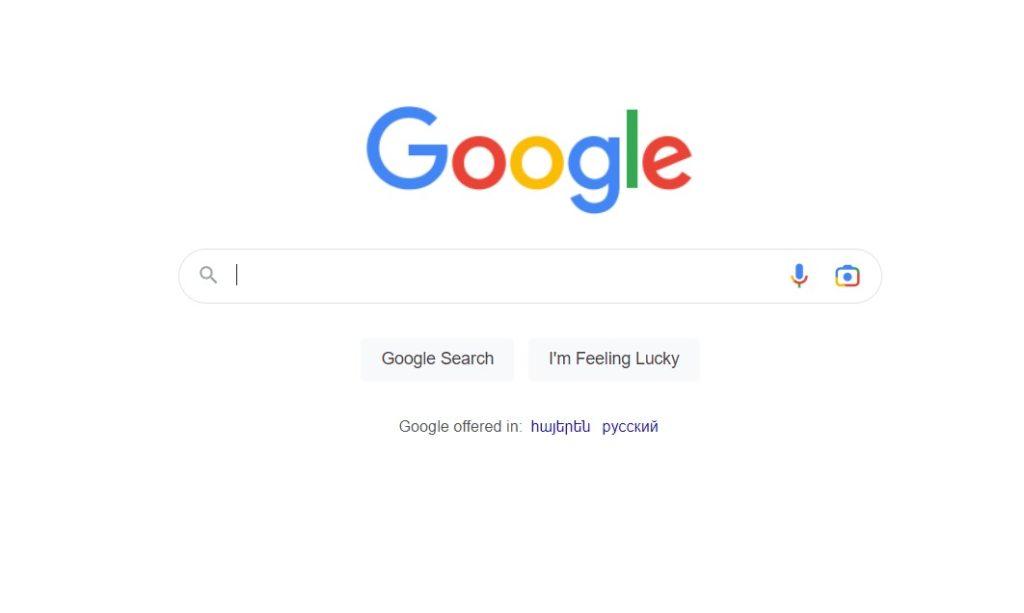 If you are trying to find business emails for free, then you can always the Google search option.
However, a regular search may not bring you the desired results. So, we recommend utilizing Google advanced search or Google advanced search operators to find the relevant emails.
The best way to search for a company or person's email via Google is by following the simple steps below:
1. Putting a person's/company's name between brackets.
2. Adding queries like "+ email" or "+ email address", etc.

If you are searching for a personal email, you can also add the company where they work to get more relevant information.
#5 How To Use Twitter's Advanced Search To Find Email Addresses

Another fast and free way of looking for email address is via Twitter Advanced Search. It's common for individuals and companies to add their email addresses to their Twitter profiles or posts.
You need to take a few simple steps to get the desired emails:
1. Adding the desired person's/company's Twitter username in the Accounts section.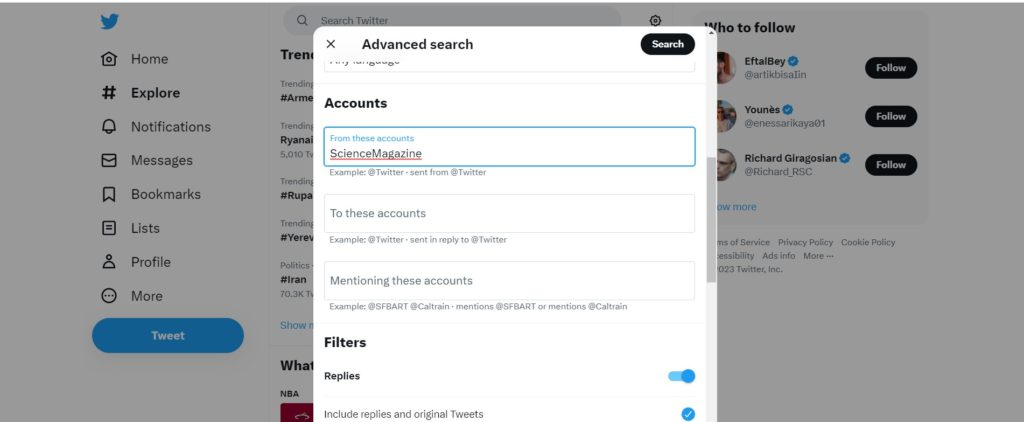 2. Adding the keyword "email at" in the Words section.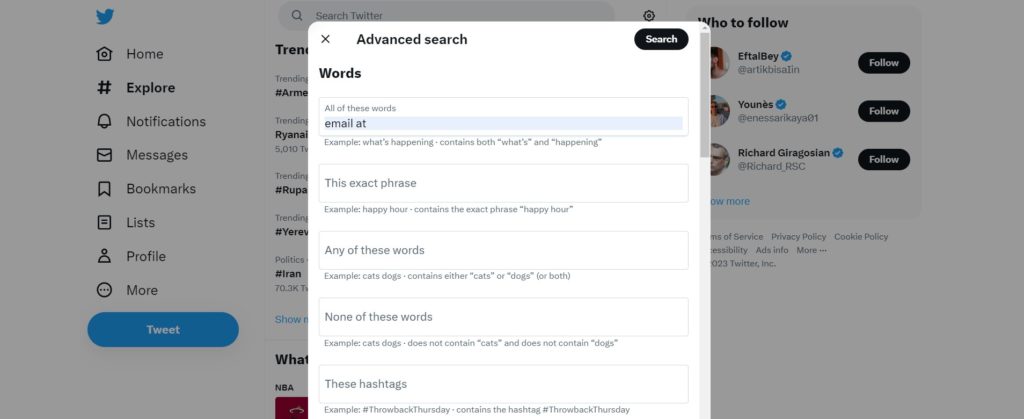 In the search results, you can find the emails submitted by the user to contact.

And… yes.. Don't forget to take the extra step of validating your email address in order to maintain a good sender reputation.
🔎 Happy hunting!
---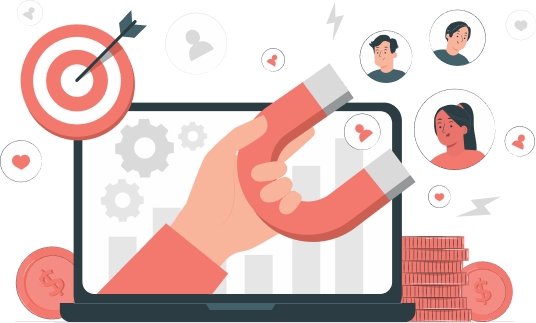 Marketing Specialist | Content Writer
Experienced in SaaS content writing, helps customers to automate time-consuming tasks and solve complex scraping cases with step-by-step tutorials and in depth-articles.
Follow me on Linkedin for more SaaS content